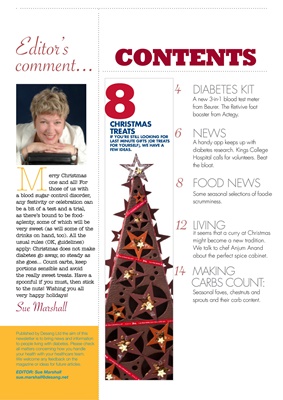 Editor's
comment... cONteNtS
8
christmas
treats
if you're still looking for
last minute gifts (or treats
4
6
DIABETES KIT
A new 3-in-1 blood test meter
from Beurer. The Retivive foot
booster from Actegy.
NEWS
A handy app keeps up with
for yourself), we have a
few ideas. diabetes research. Kings college
Hospital calls for volunteers. Beat
M
the bloat.
erry Christmas
one and all! For
those of us with
a blood sugar control disorder,
8 fooD NEWS
Some seasonal selections of foodie
any festivity or celebration can scrumminess.
be a bit of a test and a trial,
as there's bound to be food-
aplenty, some of which will be
very sweet (as will some of the
drinks on hand, too). All the
12 LIVING
it seems that a curry at christmas
usual rules (OK, guidelines) might become a new tradition.
apply: Christmas does not make We talk to chef Anjum Anand
diabetes go away, so steady as about the perfect spice cabinet.
she goes... Count carbs, keep
portions sensible and avoid
the really sweet treats. Have a
spoonful if you must, then stick
14 cARBS couNT:
mAKING
to the nuts! Wishing you all
very happy holidays!
Seasonal faves, chestnuts and
sprouts and their carb content.
Sue Marshall
Published by Desang Ltd the aim of this
newsletter is to bring news and information
to people living with diabetes. Please check
all matters concerning how you handle
your health with your healthcare team.
We welcome any feedback on the
magazine or ideas for future articles.
Editor: Sue Marshall
sue.marshall@desang.net