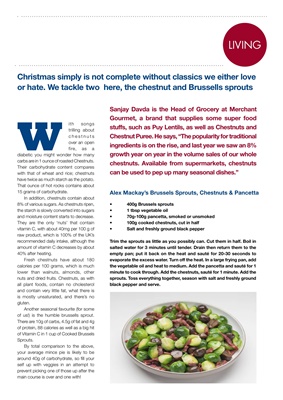 LIVING
Christmas simply is not complete without classics we either love
or hate. We tackle two here, the chestnut and Brussells sprouts
Sanjay Davda is the Head of Grocery at Merchant
w
Gourmet, a brand that supplies some super food
ith songs
trilling about
stuffs, such as Puy Lentils, as well as Chestnuts and
chestnuts Chestnut Puree. He says, "The popularity for traditional
over an open
fire, as a
ingredients is on the rise, and last year we saw an 8%
diabetic you might wonder how many growth year on year in the volume sales of our whole
carbs are in 1 ounce of roasted Chestnuts.
chestnuts. Available from supermarkets, chestnuts
Their carbohydrate content compares
with that of wheat and rice; chestnuts can be used to pep up many seasonal dishes."
have twice as much starch as the potato.
That ounce of hot rocks contains about
15 grams of carbohydrate. Alex Mackay's Brussels Sprouts, Chestnuts & Pancetta
In addition, chestnuts contain about
8% of various sugars. As chestnuts ripen, • 400g Brussels sprouts
the starch is slowly converted into sugars • 1 tbsp vegetable oil
and moisture content starts to decrease. • 70g-100g pancetta, smoked or unsmoked
They are the only 'nuts' that contain • 100g cooked chestnuts, cut in half
vitamin C, with about 40mg per 100 g of • Salt and freshly ground black pepper
raw product, which is 100% of the UK's
recommended daily intake, although the Trim the sprouts as little as you possibly can. Cut them in half. Boil in
amount of vitamin C decreases by about salted water for 3 minutes until tender. Drain then return them to the
40% after heating. empty pan; put it back on the heat and sauté for 20-30 seconds to
Fresh chestnuts have about 180 evaporate the excess water. Turn off the heat. In a large frying pan, add
calories per 100 grams, which is much the vegetable oil and heat to medium. Add the pancetta and sauté for 1
lower than walnuts, almonds, other minute to cook through. Add the chestnuts, sauté for 1 minute. Add the
nuts and dried fruits. Chestnuts, as with sprouts. Toss everything together, season with salt and freshly ground
all plant foods, contain no cholesterol black pepper and serve.
and contain very little fat, what there is
is mostly unsaturated, and there's no
gluten.
Another seasonal favourite (for some
of us!) is the humble brussells sprout.
There are 10g of carbs, 4.5g of fat and 4g
of protein, 88 calories as well as a big hit
of Vitamin C in 1 cup of Cooked Brussels
Sprouts.
By total comparison to the above,
your average mince pie is likely to be
around 40g of carbohydrate, so fill your
self up with veggies in an attempt to
prevent picking one of those up after the
main course is over and one with!