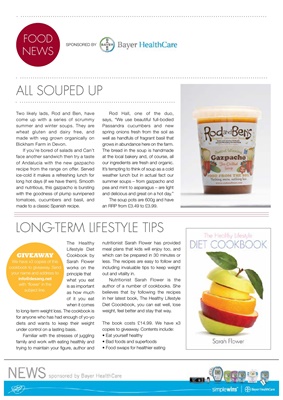 FOOD SPONSORED BY
NEWS
ALL SOUpED Up
Two likely lads, Rod and Ben, have Rod Hall, one of the duo,
come up with a series of scrummy says, "We use beautiful full-bodied
summer and winter soups. They are Passandra cucumbers and new
wheat gluten and dairy free, and spring onions fresh from the soil as
made with veg grown organically on well as handfuls of fragrant basil that
Bickham Farm in Devon. grows in abundance here on the farm.
If you're bored of salads and Can't The bread in the soup is handmade
face another sandwich then try a taste at the local bakery and, of course, all
of Andalucía with the new gazpacho our ingredients are fresh and organic.
recipe from the range on offer. Served It's tempting to think of soup as a cold
ice-cold it makes a refreshing lunch for weather lunch but in actual fact our
long hot days (if we have them). Smooth summer soups – from gazpacho and
and nutritious, this gazpacho is bursting pea and mint to asparagus – are light
with the goodness of plump sunripened and delicious and great on a hot day."
tomatoes, cucumbers and basil, and The soup pots are 600g and have
made to a classic Spanish recipe. an RRP from £3.49 to £3.99.
LONG-TERM LIFESTYLE TIpS
The Healthy nutritionist Sarah Flower has provided
Lifestyle Diet meal plans that kids will enjoy too, and
giVeaWaY Cookbook by which can be prepared in 30 minutes or
We have x3 copies of this Sarah Flower less. The recipes are easy to follow and
cookbook to giveaway. Send works on the including invaluable tips to keep weight
your name and address to principle that out and vitality in.
info@desang.net what you eat Nutritionist Sarah Flower is the
with 'flower' in the is as important author of a number of cookbooks. She
subject line.
as how much believes that by following the recipes
of it you eat in her latest book, The Healthy Lifestyle
when it comes Diet Coookbook, you can eat well, lose
to long-term weight loss. The cookbook is weight, feel better and stay that way.
for anyone who has had enough of yo-yo
diets and wants to keep their weight The book costs £14.99. We have x3
under control on a lasting basis. copies to giveaway. Contents include:
Familiar with the stresses of juggling • Eat yourself healthy
family and work with eating healthily and • Bad foods and superfoods
trying to maintain your figure, author and • Food swaps for healthier eating