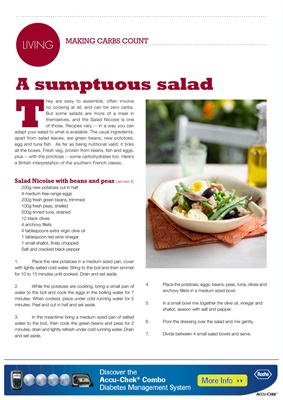 MaKING CaRBs COUNT
LIVING
a sumptuous salad
t
hey are easy to assemble, often involve
no cooking at all, and can be zero carbs.
But some salads are more of a meal in
themselves, and the Salad Nicoise is one
of those. Recipes vary -- in a way you can
adapt your salad to what is available. The usual ingredients,
apart from salad leaves, are green beans, new pototoes,
egg and tuna fish. As far as being nutitional valid, it ticks
all the boxes. Fresh veg, protein from beans, fish and eggs,
plus -- with the pototoes -- some carbohydrates too. Here's
a British interpretation of the southern French classic.
Salad Nicoise with beans and peas (serves 4)
200g new potatoes cut in half
4 medium free-range eggs
200g fresh green beans, trimmed
100g fresh peas, shelled
200g tinned tuna, drained
12 black olives
4 anchovy fillets
4 tablespoons extra virgin olive oil
1 tablespoon red wine vinegar
1 small shallot, finely chopped
Salt and cracked black pepper
1. Place the new potatoes in a medium sized pan, cover
with lightly salted cold water. Bring to the boil and then simmer
for 10 to 15 minutes until cooked. Drain and set aside.
2. While the potatoes are cooking, bring a small pan of 4. Place the potatoes, eggs, beans, peas, tuna, olives and
water to the boil and cook the eggs in the boiling water for 7 anchovy fillets in a medium sized bowl.
minutes. When cooked, place under cold running water for 5
minutes. Peel and cut in half and set aside. 5. In a small bowl mix together the olive oil, vinegar and
shallot, season with salt and pepper.
3. In the meantime bring a medium sized pan of salted
water to the boil, then cook the green beans and peas for 2 6. Poor the dressing over the salad and mix gently.
minutes, drain and lightly refresh under cold running water. Drain
and set aside. 7. Divide between 4 small salad bowls and serve.