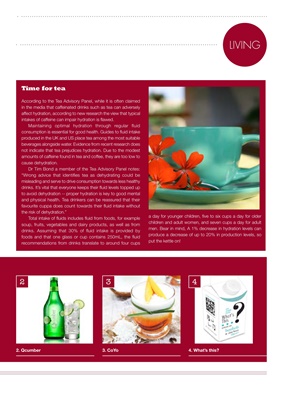 LIVING
time for tea
According to the Tea Advisory Panel, while it is often claimed
in the media that caffeinated drinks such as tea can adversely
affect hydration, according to new research the view that typical
intakes of caffeine can impair hydration is flawed.
Maintaining optimal hydration through regular fluid
consumption is essential for good health. Guides to fluid intake
produced in the UK and US place tea among the most suitable
beverages alongside water. Evidence from recent research does
not indicate that tea prejudices hydration. Due to the modest
amounts of caffeine found in tea and coffee, they are too low to
cause dehydration.
Dr Tim Bond a member of the Tea Advisory Panel notes:
"Wrong advice that identifies tea as dehydrating could be
misleading and serve to drive consumption towards less healthy
drinks. It's vital that everyone keeps their fluid levels topped up
to avoid dehydration -- proper hydration is key to good mental
and physical health. Tea drinkers can be reassured that their
favourite cuppa does count towards their fluid intake without
the risk of dehydration."
Total intake of fluids includes fluid from foods, for example a day for younger children, five to six cups a day for older
soup, fruits, vegetables and dairy products, as well as from children and adult women, and seven cups a day for adult
drinks. Assuming that 30% of fluid intake is provided by men. Bear in mind, A 1% decrease in hydration levels can
foods and that one glass or cup contains 250mL, the fluid produce a decrease of up to 20% in production levels, so
recommendations from drinks translate to around four cups put the kettle on!
2 3 4
2. Qcumber 3. CoYo 4. What's this?