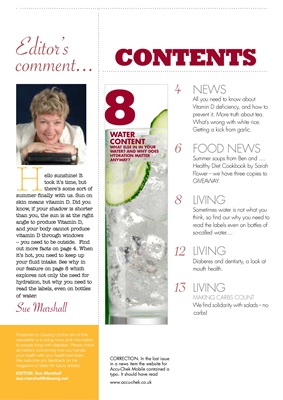 Editor's
comment... contents
8
4 NEWS
All you need to know about
Vitamin D deficiency, and how to
prevent it. More truth about tea.
What's wrong with white rice.
Getting a kick from garlic.
water
content
what else in in your
water? and why does
hydration matter
anyway?
6 FOOD NEWS
Summer soups from Ben and ....
H
Healthy Diet Cookbook by Sarah
ello sunshine! It Flower -- we have three copies to
took it's time, but GIVEAWAY.
there's some sort of
summer finally with us. Sun on
skin means vitamin D. Did you
know, if your shadow is shorter
8 LIVING
Sometimes water is not what you
than you, the sun is at the right think, so find our why you need to
angle to produce Vitamin D,
read the labels even on bottles of
and your body cannot produce
vitamin D through windows so-called water....
-- you need to be outside. Find
out more facts on page 4. When
it's hot, you need to keep up
your fluid intake. See why in
12 LIVING
Diaberes and dentisrty, a look at
our feature on page 8 which mouth health.
explores not only the need for
hydration, but why you need to
read the labels, even on bottles
of water.
13 LIVING
MAKING CARBS COUNT
We find solidarity with salads -- no
Sue Marshall carbs!
Published by Desang Ltd the aim of this
newsletter is to bring news and information
to people living with diabetes. Please check
all matters concerning how you handle
your health with your healthcare team.
We welcome any feedback on the CORRECTION. In the last issue
magazine or ideas for future articles. in a news item the website for
Accu-Chek Mobile contained a
Editor: Sue Marshall typo. It should have read
sue.marshall@desang.net
www.accu-chek.co.uk