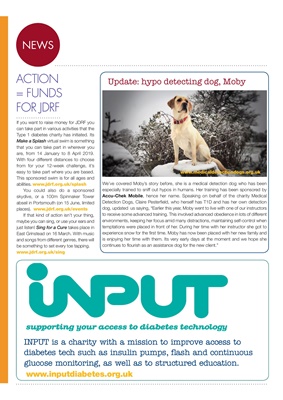 NEWS
INPUT is a charity with a mission to improve access to
diabetes tech such as insulin pumps, flash and continuous
glucose monitoring, as well as to structured education.
If you want to raise money for JDRF you
can take part in various activities that the
Type 1 diabetes charity has initiated. It's
Make a Splash virtual swim is something
that you can take part wherever you are,
from 14 January to 8 April 2019. With
four different distances to choose from for
your 12-week challenge, it's easy to take
part wherever you are. This sponsored
swim is for all ages and abilities.
You could also do a sponsored
skydive, or do a 100m Spinnaker Tower
abseil on 15 June in Portsmouth (limited
places). www.jdrf.org.uk/events
If that kind of action isn't your thing,
maybe you can sing, or use your ears and
just listen! Sing for a Cure takes place in
East Grinstead on 16 March. With music
and songs from different genres, there will
be something to set every toe tapping.
ACTION
= FUNDS
FOR JDRF
We've covered Moby before, she is a medical detection dog who has been trained
to sniff out hypos. Speaking on behalf of the charity Medical Detection Dogs, Claire
Pesterfield, who herself has T1D and has her own detection dog, updated us saying,
"Earlier this year, Moby went to live with one of our instructors to receive some advanced
training. This involved advanced obedience in lots of different environments, keeping her
focus amid many distractions, maintaining self-control when temptations were placed in
front of her. During her time with her instructor she got to experience snow for the first
time. Moby has now been placed with her new family and is enjoying her time with them.
Its very early days at the moment and we hope she continues to flourish as an assistance
dog for the new client." www.medicatldetectiondogs.org.uk
Update: medical detection dog, Moby