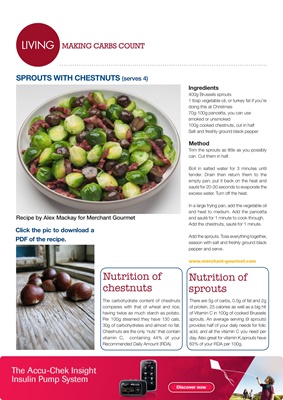 LIVINGLIVING
SPROUTS WITH CHESTNUTS
Ingredients
400g Brussels sprouts
1 tbsp vegetable oil, or turkey fat if you're
doing this at Christmas
70g-100g pancetta, you can use
smoked or unsmoked
100g cooked chestnuts, cut in half
Salt and freshly ground black pepper
MAKING CARBS COUNT
Method
Trim the sprouts as little as you possibly
can. Cut them in half.
Boil in salted water for 3 minutes until
tender. Drain then return them to the
empty pan; put it back on the heat and
sauté for 20-30 seconds to evaporate the
excess water. Turn off the heat.
In a large frying pan, add the vegetable oil
and heat to medium. Add the pancetta
and sauté for 1 minute to cook through.
Add the chestnuts, sauté for 1 minute.
Add the sprouts. Toss everything together,
season with salt and freshly ground black
pepper and serve.
Recipe by Alex Mackay for Merchant Gourmet
Click the pic to download a PDF of the recipe.
Nutrition of
sprouts
Nutrition of
chestnuts
There are 5g of carbs, 0.5g of fat and 2g
of protein, 25 calories as well as a big hit
of Vitamin C in 100g of cooked Brussels
sprouts. An average serving (9 sprouts)
provides half of your daily needs for folic
acid, and all the vitamin C you need per
day. Also great for vitamin K,sprouts have
63% of your RDA per 100g.
The carbohydrate content of chestnuts
compares with that of wheat and rice;
having twice as much starch as potato.
Per 100g steamed they have 130 cals,
30g of carbohydrates and almost no fat.
Chestnuts are the only 'nuts' that contain
vitamin C, containing 44% of your
Recommended Daily Amount (RDA).