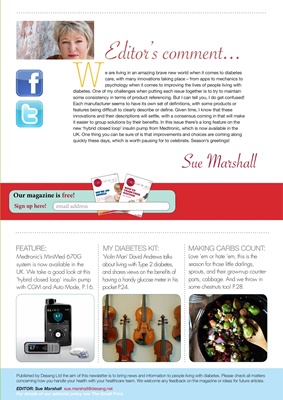 Published by Desang Ltd the aim of this newsletter is to bring news and information to people living with diabetes. Please check all matters
concerning how you handle your health with your healthcare team. We welcome any feedback on the magazine or ideas for future articles.
EDITOR: Sue Marshall sue.marshall@desang.net
For details of our editorial policy see The Small Print.
Medtronic's MiniMed 670G
system is now available in the
UK. We take a good look at this
'hybrid closed loop' insulin pump
with CGM and Auto Mode, P16.
Sue Marshall
Love 'em or hate 'em, this is the
season for those little darlings,
sprouts, and their grown-up counterparts,
cabbage. And we throw in
some chestnuts too! P.28.
One of my challenges when putting each issue together is to try to maintain
some consistency in terms of product referencing. But I can tell you, I do
get confused! Each manufacturer seems to have its own set of definitions,
yet some of them are very hard to clearly describe or define. What is an 'artificial
pancreas'? Editor's comment...
ISSUE 30
MAGAZINE
DESANG
PLUS • New Products • Groovy giveaways • News (for T1 and T2)
WE'RE NO
ANGELS
But business as usual is best for
diabetics at Christmas
MAKING
CARBS COUNT:
CHESTNUTS ROASTING
ON OPEN FIRES
Our magazine is free!
Sign up here! email address
MY DIABETES KIT:
'Violin Man' David Andrews talks
about living with Type 2 diabetes,
and shares views on the benefits of
having a handy glucouse meter in
his pocket P.24.
FEATURE: MAKING CARBS COUNT: