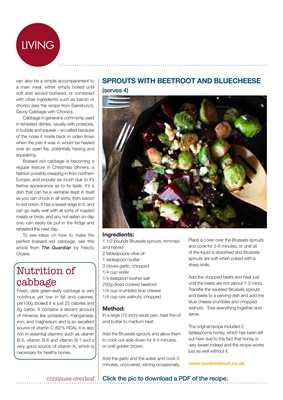 LIVINGLIVING
can also be a simple accompaniment to
a main meal, either simply boiled until
soft and served buttered, or combined
with other ingredients such as bacon or
chorizo (see the recipe from Sainsbury's,
Savoy Cabbage with Chorizo).
Cabbage in general is commonly used
in reheated dishes, usually with potatoes,
in bubble and squeak - so called because
of the noise it made back in olden times
when the pan it was in would be heated
over an open fire, potentially hissing and
squeaking.
Braised red cabbage is becoming a
regular feature in Christmas dinners, a
fashion possibly creeping in from northern
Europe, and popular as much due to it's
festive appearance as to its taste. It's a
dish that can be a veritable feast in itself
as you can chuck in all sorts, from bacon
to red onion. It has a sweet edge to it, and
can go really well with all sorts of roasted
meats or birds, and any not eaten on day
one, can easily be put in the fridge and
reheated the next day.
To see ideas on how to make the
perfect braised red cabbage, see this
article from The Guardian by Felicity
Cloake.
continues overleaf
SPROUTS WITH BEETROOT AND BLUECHEESE
Ingredients:
1 1/2 pounds Brussels sprouts, trimmed
and halved
2 tablespoons olive oil
1 tablespoon butter
3 cloves garlic, chopped
1/4 cup water
1/4 teaspoon kosher salt
250g beetroots, diced or sliced
1/4 cup crumbled blue cheese
1/4 cup raw walnuts, chopped
Method:
In a large (12-inch) sauté pan, heat the oil
and butter to medium heat.
Add the Brussels sprouts and allow them
to cook cut-side down for 4-5 minutes,
or until golden brown.
Add the garlic and the water and cook 3
minutes, uncovered, stirring occasionally.
Place a cover over the Brussels sprouts
and cook for 5-8 minutes, or until all
of the liquid is absorbed and Brussels
sprouts are soft when poked with a
sharp knife.
Add the chopped beets and heat just
until the beets are hot (about 1-2 mins).
Transfer the sautéed Brussels sprouts
and beets to a serving dish and add the
blue cheese crumbles and chopped
walnuts. Toss everything together and
serve.
The original recipe included 2
tablespoons honey, which has been left
out here due to the fact that honey is
very sweet indeed and the recipe works
just as well without it.
Click the pic to download a
PDF of the recipe.
Nutrition of
cabbage
Fresh, dark green-leafy cabbage is very
nutritious yet low in fat and calories,
per100g (boiled) it is just 25 calories and
6g carbs. It contains a decent amount
of minerals like potassium, manganese,
iron, and magnesium and is an excellent
source of vitamin C (62% RDA). It is also
rich in essential vitamins such as vitamin
B-5, vitamin B-6 and vitamin B-1 and a
very good source of vitamin K, which is
necessary for healthy bones.