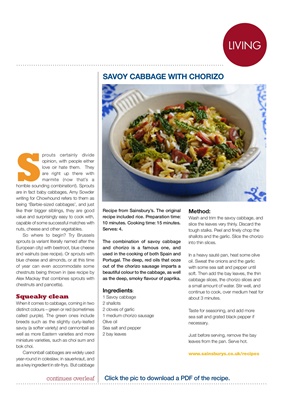 KITLIVING
continues overleaf
Sprouts certainly divide
opinion, with people either
love oir hate them. They
are right up there with
marmite (now that's a
horrible sounding combination!). Sprouts
are in fact baby cabbages, Amy Sowder
writing for Chowhound refers to them as
being 'Barbie-sized cabbages', and just
like their bigger siblings, they are good
value and surprisingly easy to cook with,
capable of some successful matches with
nuts, cheese and other vegetables.
So where to begin? Try Brussels
sprouts (a variant literally named after the
European city) with beetroot, blue cheese
and walnuts (see recipe). Or sprouts with
blue cheese and almonds, or at this time
of year can even accommodate some
chestnuts being thrown in (see recipe by
Alex Mackay that combines sprouts with
chestnuts and pancetta).
Squeaky clean
When it comes to cabbage, coming in two
distinct colours - green or red (sometimes
called purple). The green ones include
breeds such as the slightly curly-leafed
savoy (a softer variety) and cannonball as
well as more Eastern varieties and more
miniature varieties, such as choi sum and
bok choi.
Cannonball cabbages are widely used
year-round in coleslaw, in sauerkraut, and
as a key ingredient in stir-frys. But cabbage
SAVOY CABBAGE WITH CHORIZO
Recipe from Sainsbury's. The original
recipe included rice. Preparation time:
10 minutes. Cooking time: 15 minutes.
Serves: 4.
The combination of savoy cabbage
and chorizo is a famous one, and
used in the cooking of both Spain and
Portugal. The deep, red oils that ooze
out of the chorizo sausage imparts a
beautiful colour to the cabbage, as well
as the deep, smoky flavour of paprika.
Ingredients:
1 ½ tsp cumin seeds
15-20 dried Kashmiri chillies, whole
1 tbp black peppercorns
2 tsp black mustard seeds
1 tsp fenugreek seeds
6 cloves
1 tsp cardamom seeds
5cm (2in) piece of cassia
½ star anise
6 tbsp cider vinegar or palm vinegar
1 tsp fine salt
2 tsp jaggery or date palm sugar (or
omit, only purists will notice)
Method:
Wash and trim the savoy cabbage, and
slice the leaves very thinly. Discard the
tough stalks. Peel and finely chop the
shallots and the garlic. Slice the chorizo
into thin slices.
In a heavy sauté pan, heat some olive
oil. Sweat the onions and the garlic
with some sea salt and pepper until
soft. Then add the bay leaves, the thin
cabbage slices, the chorizo slices and
a small amount of water. Stir well, and
continue to cook, over medium heat for
about 3 minutes.
Add the boiled rice, and mix well. Taste
for seasoning, and add more sea salt
and grated black pepper if necessary.
Just before serving, remove the bay
leaves from the pan. Serve hot.
Click the pic to download a
PDF of the recipe.