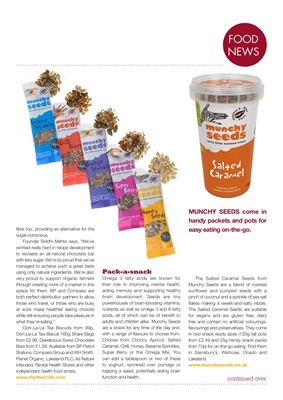 KIT
FOOD
NEWS
Pack-a-snack
Omega 3 fatty acids are known for
their role in improving mental health,
aiding memory and supporting healthy
brain development. Seeds are tiny
powerhouses of brain-boosting vitamins,
nutrients as well as omega 3 and 6 fatty
acids, all of which can be of benefit to
adults and children alike. Munchy Seeds
are a snack for any time of the day and,
with a range of flavours to choose from.
Choose from Choccy Apricot, Salted
Caramel, Chilli, Honey, Sesame Sprinkles,
Super Berry or the Omega Mix. You
can add a tablespoon or two of these
to yoghurt, sprinkled over porridge or
topping a salad, potentially aiding brain
function and health.
The Salted Caramel Seeds from
Munchy Seeds are a blend of roasted
sunflower and pumpkin seeds with a
pinch of coconut and a sprinkle of sea salt
flakes making a sweet-and-salty nibble.
The Salted Caramel Seeds are suitable
for vegans and are gluten free, dairy
free and contain no artificial colourings,
flavourings and preservatives. They come
in two snack-ready sizes (120g tall pots
from £2.49 and 25g handy snack packs
from 70p) for on-the-go eating. Find them
in Sainsbury's, Waitrose, Ocado and
Lakeland.
fibre too, providing an alternative for the
sugar-conscious.
Founder Siddhi Mehta says, "We've
worked really hard in recipe development
to recreate an all-natural chocolate bar
with less sugar. We're so proud that we've
managed to achieve such a great taste
using only natural ingredients. We're also
very proud to support organic farmers
through creating more of a market in this
space for them. BP and Compass are
both perfect distribution partners to allow
those who travel, or those who are busy
at work make healthier eating choices
while still ensuring people take pleasure in
what they're eating."
Ooh-La-La Tea Biscuits from 99p,
Ooh-La-La Tea Biscuit 160g Share Bags
from £2.99. Deeelicious Swiss Chocolate
Bars from £1.39. Available from BP Petrol
Stations, Compass Group and WH Smith,
Planet Organic, Lakeland PLC, As Nature
Intended, Revital Health Stores and other
independent health food stores.
www.rhythm108.com continued over
MUNCHY SEEDS come in
handy packets and pots for
easy eating on-the-go.