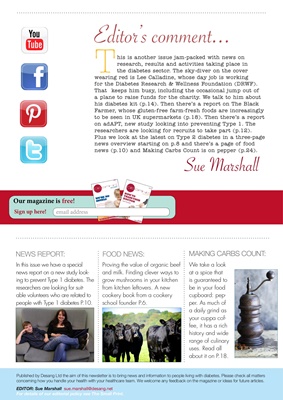 Published by Desang Ltd the aim of this newsletter is to bring news and information to people living with diabetes. Please check all matters
concerning how you handle your health with your healthcare team. We welcome any feedback on the magazine or ideas for future articles.
EDITOR: Sue Marshall sue.marshall@desang.netshall" target="_blank" title="Visit sue.marshall">sue.marshall@desang.net
For details of our editorial policy see The Small Print.
Proving the value of organic beef
and milk. Finding clever ways to
grow mushrooms in your kitchen
from kitchen leftovers. A new
cookery book from a cookery
school founder P.6.
Sue Marshall
NEWS REPORT:
In this issue we have a special
news report on a new study looking to prevent Type
1 diabetes. The
researchers are looking for suitable volunteers who are related to
people with Type 1 diabetes P.10.T
his is another issue jam-packed with news on
research, results and activities taking place in
the diabetes sector. The sky-diver on the cover
wearing red is Lee Calladine, whose day job is working
for the Diabetes Research & Wellness Foundation (DRWF).
That keeps him busy, including the occasional jump out of
a plane to raise funds for the charity. We talk to him about
his diabetes kit (p.14). Then there's a report on The Black
Farmer, whose gluten-free farm-fresh foods are increasingly
to be seen in UK supermarkets (p.18). Then there's a report
on adAPT, new study looking into preventing Type 1. The
researchers are looking for recruits to take part (p.12).
Plus we look at the latest on Type 2 diabetes in a three-page
news overview starting on p.8 and there's a page of food
news (p.10) and Making Carbs Count is on pepper (p.24).
Editor's comment...
ISSUE 30
MAGAZINE
DESANG
PLUS • New Products • Groovy giveaways • News (for T1 and T2)
WE'RE NO
ANGELS
But business as usual is best for
diabetics at Christmas
MAKING
CARBS COUNT:
CHESTNUTS ROASTING
ON OPEN FIRES
Our magazine is free!
Sign up here! email address
FOOD NEWS:
We take a look
at a spice that
is guaranteed to
be in your food
cupboard: pepper.
As much of
a daily grind as
your cuppa coffee, it has a rich
history and wide
range of culinary
uses. Read all
about it on P.18.
MAKING CARBS COUNT:
SEE IF YOU
QUALIFY FOR A
FREE ACCU-CHEK
MOBILE METER
CLICK HERE