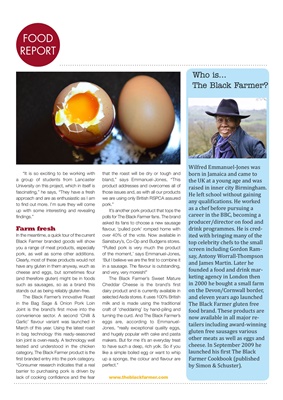 LIVINGLIVING
Who is...
The Black Farmer?
Wilfred Emmanuel-Jones was
born in Jamaica and came to
the UK at a young age and was
raised in inner city Birmingham.
He left school without gaining
any qualifications. He worked
as a chef before pursuing a
career in the BBC, becoming a
producer/director on food and
drink programmes. He is credited
with bringing many of the
top celebrity chefs to the small
screen including Gordon Ramsay,
Antony Worrall-Thompson
and James Martin. Later he
founded a food and drink marketing
agency in London then
in 2000 he bought a small farm
on the Devon/Cornwall border,
and eleven years ago launched
The Black Farmer gluten free
food brand. These products are
now available in all major retailers including award-winning
gluten free sausages various
other meats as well as eggs and
cheese. In September 2009 he
launched his first The Black
Farmer Cookbook (published
by Simon & Schuster).
"It is so exciting to be working with
a group of students from Lancaster
University on this project, which in itself is
fascinating," he says, "They have a fresh
approach and are as enthusiastic as I am
to find out more. I'm sure they will come
up with some interesting and revealing
findings."
Farm fresh
In the meantime, a quick tour of the current
Black Farmer branded goods will show
you a range of meat products, especially
pork, as well as some other additions.
Clearly, most of these products would not
have any gluten in them anyway, wuch as
cheese and eggs, but sometimes flour
(and therefore gluten) might be in foods
such as sausages, so as a brand this
stands out as being reliably gluten-free.
The Black Farmer's innovative Roast
in the Bag Sage & Onion Pork Loin
Joint is the brand's first move into the
convenience sector. A second 'Chilli &
Garlic' flavour variant was launched in
March of this year. Using the latest roast
in bag technology this ready-seasoned
loin joint is oven-ready. A technology well
tested and understood in the chicken
category, The Black Farmer product is the
first branded entry into the pork category.
"Consumer research indicates that a real
barrier to purchasing pork is driven by
lack of cooking confidence and the fear
that the roast will be dry or tough and
bland," says Emmanuel-Jones, "This
product addresses and overcomes all of
those issues and, as with all our products
we are using only British RSPCA assured
pork."
It's another pork product that tops the
polls for The Black Farmer fans. The brand
asked its fans to choose a new sausage
flavour, 'pulled pork' romped home with
over 40% of the vote. Now available in
Sainsbury's, Co-Op and Budgens stores.
"Pulled pork is very much the product
of the moment,' says Emmanuel-Jones,
'But I believe we are the first to combine it
in a sausage. The flavour is outstanding,
and very, very moreish!"
The Black Farmer's Sweet Mature
Cheddar Cheese is the brand's first
dairy product and is currently available in
selected Asda stores. it uses 100% British
milk and is made using the traditional
craft of 'cheddaring' by hand-piling and
turning the curd. And The Black Farmer's
eggs are, according to EmmanuelJones, "really
exceptional quality eggs,
and hugely popular with cake and pasta
makers. But for me it's an everyday treat
to have such a deep, rich yolk. So if you
like a simple boiled egg or want to whip
up a sponge, the colour and flavour are
perfect."
FOOD
REPORT