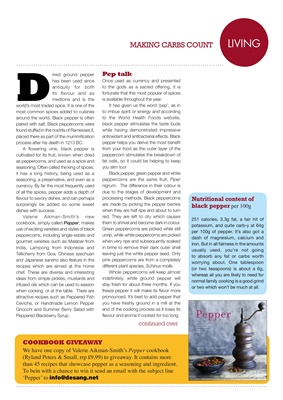 KITLIVINGLIVING
Diried ground pepper
has been used since
antiquity for both
its flavour and as
medicine and is the
world's most traded spice. It is one of the
most common spices added to cuisines
around the world. Black pepper is often
paired with salt. Black peppercorns were
found stuffed in the nostrils of Ramesses II,
placed there as part of the mummification
process after his death in 1213 BC.
A flowering vine, black pepper is
cultivated for its fruit, known when dried
as peppercorns, and used as a spice and
seasoning. Often called the king of spices,
it has a long history, being used as a
seasoning, a preservative, and even as a
currency. By far the most frequently used
of all the spices, pepper adds a depth of
flavour to savory dishes, and can perhaps
surpisingly be added so some sweet
dishes with success.
Valerie Aikman-Smith's new
cookbook, simply called Pepper, makes
use of exciting varieties and styles of black
peppercorns, including single-estate and
gourmet varieties such as Malabar from
India, Lampong from Indonesia and
Tellicherry from Goa. Chinese szechuan
and Japanese sansho also feature in the
recipes which are aimed at the home
chef. These are diverse and interesting
ideas from simple pickles, mustards and
infused oils which can be used to season
when cooking, or at the table. There are
attractive recipes such as Peppered Fish
Ceviche, or Handmade Lemon Pepper
Gnocchi and Summer Berry Salad with
Peppered Blackberry Syrup.
MAKING CARBS COUNT
We have one copy of Valerie Aikman-Smith's Pepper cookbook
(Ryland Peters & Small, rrp £9.99) to giveaway. It contains more
than 45 recipes that showcase pepper as a seasoning and ingredient.
To bein with a chance to win it send an email with the subject line
'Pepper' to info@desang.netttp://desang.net" target="_blank" title="Visit desang.net">desang.net
continued over
Pep talk
Once used as currency and presented
to the gods as a sacred offering, it is
fortunate that this most popular of spices
is available throughout the year.
It has given us the word 'pep', as in
to imbue spirit or energy and according
to the World Health Foods website,
black pepper stimulates the taste buds
while having demonstrated impressive
antioxidant and antibacterial effects. Black
pepper helps you derive the most benefit
from your food as the outer layer of the
peppercorn stimulates the breakdown of
fat cells, so it could be helping to keep
you slim too!
Black pepper, green pepper and white
peppercorns are the same fruit, Piper
nigrum. The difference in their colour is
due to the stages of development and
processing methods. Black peppercorns
are made by picking the pepper berries
when they are half ripe and about to turn
red. They are left to dry which causes
them to shrivel and become dark in colour.
Green peppercorns are picked while still
unrip, while white peppercorns are picked
when very ripe and subsequently soaked
in brine to remove their dark outer shell
leaving just the white pepper seed. Only
pink peppercorns are from a completely
different plant species, Schinus molle.
Whole peppercorns will keep almost
indefinitely, while ground pepper will
stay fresh for about three months. If you
freeze pepper it will make its flavor more
pronounced. It's best to add pepper that
you have freshly ground in a mill at the
end of the cooking process as it loses its
flavour and aroma if cooked for too long.
Nutritional content of
black pepper per 100g
251 calories, 3.3g fat, a fair hit of
potassium, and quite carb-y at 64g
per 100g of pepper. It's also got a
dash of magnesium, calcium and
iron. But in all fairness in the amounts
usually used, you're not going
to absorb any fat or carbs worth
worrying about. One tablespoon
(or two teaspoons) is about a 6g,
whereas all you are likely to need for
normal family cooking is a good grind
or two which won't be much at all.
COOKBOOK GIVEAWAY