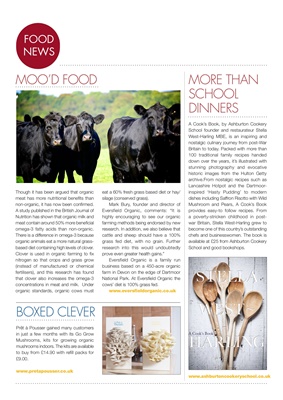 LIVINGLIVING
FOOD
NEWS
MOO'D FOOD MORE THAN
SCHOOL
DINNERS
Though it has been argued that organic
meat has more nutritional benefits than
non-organic, it has now been confirmed.
A study published in the British Journal of
Nutrition has shown that organic milk and
meat contain around 50% more beneficial
omega-3 fatty acids than non-organic.
There is a difference in omega-3 because
organic animals eat a more natural grassbased diet
containing high levels of clover.
Clover is used in organic farming to fix
nitrogen so that crops and grass grow
(instead of manufactured or chemical
fertilisers), and this research has found
that clover also increases the omega-3
concentrations in meat and milk. Under
organic standards, organic cows must
eat a 60% fresh grass based diet or hay/
silage (conserved grass).
Mark Bury, founder and director of
Eversfield Organic, comments: "It is
highly encouraging to see our organic
farming methods being endorsed by new
research. In addition, we also believe that
cattle and sheep should have a 100%
grass fed diet, with no grain. Further
research into this would undoubtedly
prove even greater health gains."
Eversfield Organic is a family run
business based on a 450-acre organic
farm in Devon on the edge of Dartmoor
National Park. At Eversfield Organic the
cows' diet is 100% grass fed.
A Cook's Book, by Ashburton Cookery
School founder and restaurateur Stella
West-Harling MBE, is an inspiring and
nostalgic culinary journey from post-War
Britain to today. Packed with more than
100 traditional family recipes handed
down over the years, it's illustrated with
stunning photography and evocative
historic images from the Hulton Getty
archive.from nostalgic recipes such as
Lancashire Hotpot and the Dartmoorinspired
'Hasty Pudding' to modern
dishes including Saffron Risotto with Wild
Mushroom and Pears, A Cook's Book
provides easy-to follow recipes. From
a poverty-stricken childhood in postwar Britain, Stella West-Harling
grew to
become one of this country's outstanding
chefs and businesswomen. The book is
available at £25 from Ashburton Cookery
School and good bookshops.
BOXED CLEVER
Prêt à Pousser gained many customers
in just a few months with its Go Grow
Mushrooms, kits for growing organic
mushrooms indoors. The kits are available
to buy from £14.90 with refill packs for
£9.00.