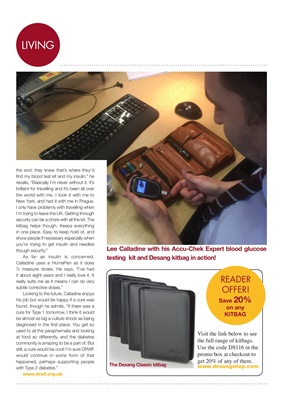 LIVINGLIVING
The Desang Classic kitbag
the end; they knew that's where they'd
find my blood test kit and my insulin," he
recalls, "Basically I'm never without it. It's
brilliant for travelling and it's been all over
the world with me. I took it with me to
New York, and had it with me in Prague.
I only have problems with travelling when
I'm trying to leave the UK. Getting through
security can be a chore with all the kit. The
kitbag helps though. Keeps everything
in one place. Easy to keep hold of, and
show people if necessary especially when
you're trying to get insulin and needles
though security."
As far as insulin is concerned,
Calladine uses a HumaPen as it does
½ measure doses. He says, "I've had
it about eight years and I really love it. It
really suits me as it means I can do very
subtle corrective doses."
Looking to the future, Calladine enjoys
his job but would be happy if a cure was
found, though he admits, "If there was a
cure for Type 1 tomorrow, I think it would
be almost as big a culture shock as being
diagnosed in the first place. You get so
used to all the paraphernalia and looking
at food so differently, and the diabetes
community is amazing to be a part of. But
still, a cure would be cool! I'm sure DRWF
would continue in some form of that
happened, perhaps supporting people
with Type 2 diabetes."
READER
OFFER!
Save 20%
on any
KITBAG
Visit the link below to see
the full range of kitbags.
Use the code DS116 in the
promo box at checkout to
get 20% of any of them.