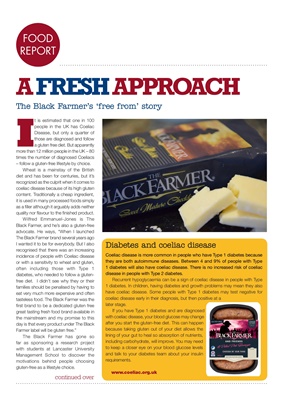 LIVINGLIVINGcontinued over
The Black Farmer's 'free from' story
A FRESH APPROACH
Coeliac disease is more common in people who have Type 1 diabetes because
they are both autoimmune diseases. Between 4 and 9% of people with Type
1 diabetes will also have coeliac disease. There is no increased risk of coeliac
disease in people with Type 2 diabetes.
Recurrent hypoglycaemia can be a sign of coeliac disease in people with Type
1 diabetes. In children, having diabetes and growth problems may mean they also
have coeliac disease. Some people with Type 1 diabetes may test negative for
coeliac disease early in their diagnosis, but then positive at a
later stage.
If you have Type 1 diabetes and are diagnosed
with coeliac disease, your blood glucose may change
after you start the gluten-free diet. This can happen
because taking gluten out of your diet allows the
lining of your gut to heal so absorption of nutrients,
including carbohydrate, will improve. You may need
to keep a closer eye on your blood glucose levels
and talk to your diabetes team about your insulin
requirements.
Diabetes and coeliac disease
I
t is estimated that one in 100
people in the UK has Coeliac
Disease, but only a quarter of
those are diagnosed and follow
a gluten free diet. But apparently
more than 12 million people in the UK - 80
times the number of diagnosed Coeliacs
- follow a gluten-free lifestyle by choice.
Wheat is a mainstay of the British
diet and has been for centuries, but it's
recognized as the culprit when it comes to
coeliac disease because of its high gluten
content. Traditionally a cheap ingredient,
it is used in many processed foods simply
as a filler although it arguably adds neither
quality nor flavour to the finished product.
Wilfred Emmanuel-Jones is The
Black Farmer, and he's also a gluten-free
advocate. He ways, "When I launched
The Black Farmer brand several years ago
I wanted it to be for everybody. But I also
recognised that there was an increasing
incidence of people with Coeliac disease
or with a sensitivity to wheat and gluten,
often including those with Type 1
diabetes, who needed to follow a glutenfree
diet. I didn't see why they or their
families should be penalised by having to
eat very much more expensive and often
tasteless food. The Black Farmer was the
first brand to be a dedicated gluten free
great tasting fresh food brand available in
the mainstream and my promise to this
day is that every product under The Black
Farmer label will be gluten free."
The Black Farmer has gone so
far as sponsoring a research project
with students at Lancaster University
Management School to discover the
motivations behind people choosing
gluten-free as a lifestyle choice.
FOOD
REPORT