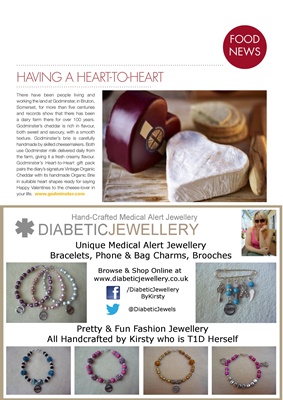 /DiabeticJewellery
ByKirsty
Unique Medical Alert Jewellery
Bracelets, Phone & Bag Charms, Brooches
Pretty & Fun Fashion Jewellery
All Handcrafted by Kirsty who is T1D Herself
Browse & Shop Online at
@DiabeticJewels
FOOD
NEWS
HAVING A HEART-TO-HEART
There have been people living and
working the land at Godminster, in Bruton,
Somerset, for more than five centuries
and records show that there has been
a dairy farm there for over 100 years.
Godminster's cheddar is rich in flavour,
both sweet and savoury, with a smooth
texture. Godminster's brie is carefully
handmade by skilled cheesemakers. Both
use Godminster milk delivered daily from
the farm, giving it a fresh creamy flavour.
Godminster's Heart-to-Heart gift pack
pairs the diary's signature Vintage Organic
Cheddar with its handmade Organic Brie
in suitable heart shapes ready for saying
Happy Valentines to the cheese-lover in
your life. www.godminster.com