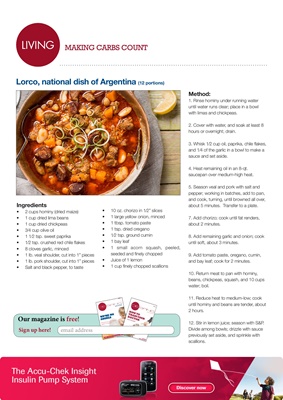 LIVINGLIVING
Lorco, national dish of Argentina (12 portions)
Ingredients
• 2 cups hominy (dried maize)
• 1 cup dried lima beans
• 1 cup dried chickpeas
• 3⁄4 cup olive oil
• 1 1⁄2 tsp. sweet paprika
• 1⁄2 tsp. crushed red chile flakes
• 8 cloves garlic, minced
• 1 lb. veal shoulder, cut into 1" pieces
• 1 lb. pork shoulder, cut into 1" pieces
• Salt and black pepper, to taste
MAKING CARBS COUNT
• 10 oz. chorizo in 1⁄2" slices
• 1 large yellow onion, minced
• 1 tbsp. tomato paste
• 1 tsp. dried oregano
• 1⁄2 tsp. ground cumin
• 1 bay leaf
• 1 small acorn squash, peeled,
seeded and finely chopped
• Juice of 1 lemon
• 1 cup finely chopped scallions
Method:
1. Rinse hominy under running water
until water runs clear; place in a bowl
with limas and chickpeas.
2. Cover with water, and soak at least 8
hours or overnight; drain.
3. Whisk 1⁄2 cup oil, paprika, chile flakes,
and 1⁄4 of the garlic in a bowl to make a
sauce and set aside.
4. Heat remaining oil in an 8-qt.
saucepan over medium-high heat.
5. Season veal and pork with salt and
pepper; working in batches, add to pan,
and cook, turning, until browned all over,
about 5 minutes. Transfer to a plate.
7. Add chorizo; cook until fat renders,
about 2 minutes.
8. Add remaining garlic and onion; cook
until soft, about 3 minutes.
9. Add tomato paste, oregano, cumin,
and bay leaf; cook for 2 minutes.
10. Return meat to pan with hominy,
beans, chickpeas, squash, and 10 cups
water; boil.
11. Reduce heat to medium-low; cook
until hominy and beans are tender, about
2 hours.
12. Stir in lemon juice; season with S&P.
Divide among bowls; drizzle with sauce
previously set aside, and sprinkle with
scallions.
Total carbs per serving (four
servings): only 5g, but 25g fat per
portion.
Dietary information supplied by
Cook & Count Carbs app.