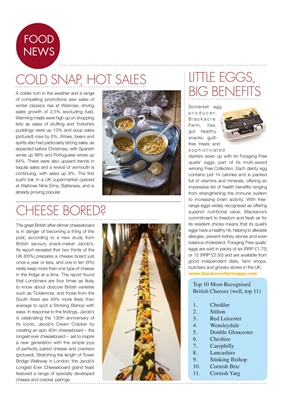 LIVINGLIVING
FOOD
NEWS
COLD SNAP, HOT SALES
CHEESE BORED?
LITTLE EGGS,
BIG BENEFITS
A colder turn in the weather and a range
of compelling promotions saw sales of
winter classics rise at Waitrose, driving
sales growth of 2.5% (excluding fuel).
Warming meals were high up on shopping
lists as sales of stuffing and Yorkshire
puddings were up 13% and soup sales
(pictured) rose by 6%. Wines, beers and
spirits also had particularly strong sales, as
expected before Christmas, with Spanish
wines up 99% and Portuguese wines up
84%. There were also upward trends in
tequila sales and a revival of vermouth is
continuing, with sales up 9%. The first
sushi bar in a UK supermarket opened
at Waitrose Nine Elms, Battersea, and is
already proving popular.
Somerset egg
producer,
Blackacre
Farm, has
got healthy
snacks, guiltfree
treats and
sophisticated
starters sewn up with its Foraging Free
quails' eggs, part of its multi-award
winning Free Collection. Each dainty egg
contains just 14 calories and is packed
full of vitamins and minerals, offering an
impressive list of health benefits ranging
from strengthening the immune system
to increasing brain activity. With freerange eggs widely recognised
as offering
superior nutritional value, Blackacre's
commitment to freedom and fresh air for
its resident chicks means that its quail's
eggs have a healthy hit, helping to alleviate
allergies, prevent kidney stones and even
balance cholesterol. Foraging Free quails'
eggs are sold in packs of six (RRP £1.75)
or 12 (RRP £2.50) and are available from
good independent delis, farm shops,
butchers and grocery stores in the UK.
The great British after-dinner cheeseboard
is in danger of becoming a thing of the
past, according to a new study from
British savoury snack-maker Jacob's.
Its report revealed that two thirds of the
UK (65%) prepares a cheese board just
once a year or less, and one in ten (9%)
rarely keep more than one type of cheese
in the fridge at a time. The report found
that Londoners are four times as likely
to know about obscure British varieties
such as Ticklemore, and those from the
South West are 49% more likely than
average to spot a Stinking Bishop with
ease. In response to the findings, Jacob's
is celebrating the 130th anniversary of
its iconic, Jacob's Cream Cracker by
creating an epic 40m cheeseboard - the
longest ever cheeseboard - set to inspire
a new generation with the simple joys
of perfectly paired cheese and crackers
(pictured). Stretching the length of Tower
Bridge Walkway in London, the Jacob's
Longest Ever Cheeseboard grand feast
featured a range of specially developed
cheese and cracker pairings.
Top 10 Most-Recognised
British Cheeses (well, top 11)
1. Cheddar
2. Stilton
3. Red Leicester
4. Wensleydale
5. Double Gloucester
6. Cheshire
7. Caerphilly
8. Lancashire
9. Stinking Bishop
10. Cornish Brie
11. Cornish Yarg