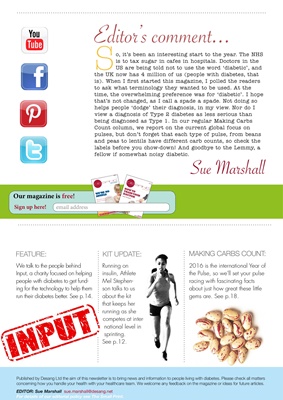 Published by Desang Ltd the aim of this newsletter is to bring news and information to people living with diabetes. Please check all matters
concerning how you handle your health with your healthcare team. We welcome any feedback on the magazine or ideas for future articles.
EDITOR: Sue Marshall sue.marshall@desang.netshall" target="_blank" title="Visit sue.marshall">sue.marshall@desang.net
For details of our editorial policy see The Small Print.
Running on
insulin, Athlete
Mel Stephenson talks to us
about the kit
that keeps her
running as she
competes at international level in
sprinting.
See p.12.
Sue Marshall
FEATURE:
We talk to the people behind
Input, a charity focused on helping
people with diabetes to get funding for the technology to help them
run their diabetes better. See p.14.S
o, it's been an interesting start to the year. The NHS
is to tax sugar in cafes in hospitals. Doctors in the
US are being told not to use the word 'diabetic', and
the UK now has 4 million of us (people with diabetes, that
is). When I first started this magazine, I polled the readers
to ask what terminology they wanted to be used. At the
time, the overwhelming preference was for 'diabetic'. I hope
that's not changed, as I call a spade a spade. Not calling
doing so helps people 'dodge' their diagnosis, in my view.
And nor do I view a diagnosis of Type 2 diabetes as less
serious than being diagnosed as Type 1 before anyone gets
started on that one. In our regular Making Carbs Count
column, we report on the current global focus on pulses, but
don't forget that each type of pulse, from a beans and peas
to lentils have different carb counts, so check the labels!
Editor's comment...
ISSUE 30
MAGAZINE
DESANG
PLUS • New Products • Groovy giveaways • News (for T1 and T2)
WE'RE NO
ANGELS
But business as usual is best for
diabetics at Christmas
MAKING
CARBS COUNT:
CHESTNUTS ROASTING
ON OPEN FIRES
Our magazine is free!
Sign up here! email address
KIT UPDATE:
2016 is the international Year of
the Pulse, so we'll set your pulse
racing with factoids about just
how great these little gems are.
See p.18.
MAKING CARBS COUNT: