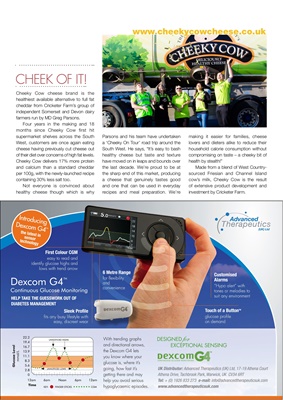 CHEEK OF IT!
Cheeky Cow cheese brand is the
healthiest available alternative to full fat
cheddar from Cricketer Farm's group of
independent Somerset and Devon dairy
farmers run by MD Greg Parsons.
Four years in the making and 18
months since Cheeky Cow first hit
supermarket shelves across the South
West, customers are once again eating
cheese having previously cut cheese out
of their diet over concerns of high fat levels.
Cheeky Cow delivers 17% more protein
and calcium than a standard cheddar
per 100g, with the newly-launched recipe
containing 30% less salt too.
Not everyone is convinced about
healthy cheese though which is why
Parsons and his team have undertaken
a 'Cheeky On Tour' road trip around the
South West. He says, "It's easy to bash
healthy cheese but taste and texture
have moved on in leaps and bounds over
the last decade. We're proud to be at
the sharp end of this market, producing
a cheese that genuinely tastes good
and one that can be used in everyday
recipes and meal preparation. We're
making it easier for families, cheese
lovers and dieters alike to reduce their
household calorie consumption without
compromising on taste - a cheeky bit of
health by stealth!"
Made from a blend of West Countrysourced
Friesian and Channel Island
cow's milk, Cheeky Cow is the result
of extensive product development and
investment by Cricketer Farm.