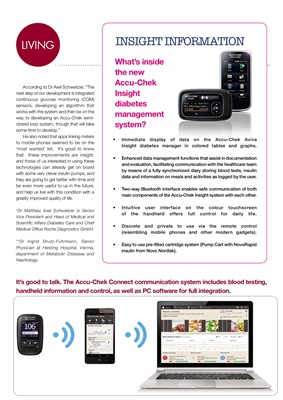 LIVINGLIVING INSIGHT INFORMATION
• Immediate display of data on the Accu-Chek Aviva
Insight diabetes manager in colored tables and graphs.
• Enhanced data management functions that assist in documentation
and evaluation, facilitating communication with the healthcare team
by means of a fully synchronized diary storing blood tests, insulin
data and information on meals and activities as logged by the user.
• Two-way Bluetooth interface enables safe communication of both
main components of the Accu-Chek Insight system with each other.
• Intuitive user interface on the colour touchscreen
of the handheld offers full control for daily life.
• Discrete and private to use via the remote control
(resembling mobile phones and other modern gadgets).
• Easy to use pre-filled cartridge system (Pump Cart with NovoRapid
insulin from Novo Nordisk).
What's inside
the new
Accu-Chek
Insight
diabetes
management
system?
According to Dr Axel Schweitzer, "The
next step of our development is integrated
continuous glucose monitoring (CGM)
sensors, developing an algorithm that
works with the system and then be on the
way to developing an Accu-Chek semiclosed loop system, though that will take
some time to develop."
He also noted that apps linking meters
to mobile phones seemed to be on the
'most wanted' list. It's good to know
that these improvements are insight,
and those of us interested in using these
technologies can already get on board
with some very clever insulin pumps, and
they are going to get better with time and
be even more useful to us in the future,
and help us live with this condition with a
greatly improved quality of life.
*Dr Matthias Axel Schweitzer is Senior
Vice President and Head of Medical and
Scientific Affairs Diabetes Care and Chief
Medical Office Roche Diagnostics GmbH.
**Dr Ingrid Shutz-Fuhrmann, Senior
Physician at Hietzing Hospital, Vienna,
department of Metabolic Diseases and
Nephrology.
It's good to talk. The Accu-Chek Connect communication system includes blood testing,
handheld information and control, as well as PC software for full integration.