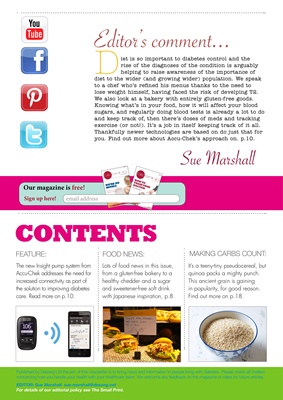 CONTENTS
Published by Desang Ltd the aim of this newsletter is to bring news and information to people living with diabetes. Please check all matters
concerning how you handle your health with your healthcare team. We welcome any feedback on the magazine or ideas for future articles.
EDITOR: Sue Marshall sue.marshall@desang.netshall" target="_blank" title="Visit sue.marshall">sue.marshall@desang.net
For details of our editorial policy see The Small Print.
Lots of food news in this issue,
from a gluten-free bakery to a
healthy chedder and a sugar
and sweetener-free soft drink
with Japanese inspiration, p.8. Sue Marshall
FEATURE:
The new Insight pump system from
Accu-Chek addresses the need for
increased connectivity as part of
the solution to improving diabetes
care. Read more on p.10. Diet is so important to diabetes control and the
rise of the diagnoses of the condition is arguably
helping to raise awareness of the importance of
diet to the wider (and growing wider) population. We speak
to a chef who's refined his menus thanks to the need to
lose weight himself, having faced the risk of develping T2.
We also look at a bakery with entirely gluten-free goods.
Knowing what's in your food, how it will affect your blood
sugars, and regularly doing blood tests is already a lot to do
and keep track of, then there's doses of meds and tracking
exercise (or not!). It's a job in itself keeping track of it all.
Thankfully newer technologies are based on do just that for
you. Find out more about Accu-Chek's approach on. p.10.
Editor's comment...
ISSUE 30
MAGAZINE
DESANG
PLUS • New Products • Groovy giveaways • News (for T1 and T2)
WE'RE NO
ANGELS
But business as usual is best for
diabetics at Christmas
MAKING
CARBS COUNT:
CHESTNUTS ROASTING
ON OPEN FIRES
Our magazine is free!
Sign up here! email address FOOD NEWS:
It's a teeny-tiny pseudocereal, but
quinoa packs a mighty punch.
This ancient grain is gaining
in popularity, for good reason.
Find out more on p.18.
MAKING CARBS COUNT: