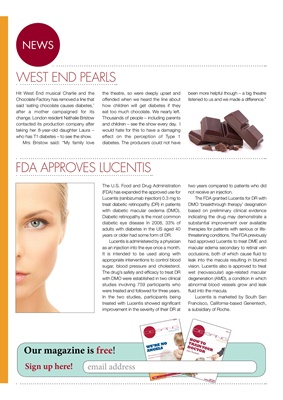 NEWS
WEST END PEARLS
Hit West End musical Charlie and the
Chocolate Factory has removed a line that
said 'eating chocolate causes diabetes,'
after a mother campaigned for its
change. London resident Nathalie Bristow
contacted its production company after
taking her 8-year-old daughter Laura -
who has T1 diabetes - to see the show.
Mrs Bristow said: "My family love
FDA APPROVES LUCENTIS
The U.S. Food and Drug Administration
(FDA) has expanded the approved use for
Lucentis (ranibizumab injection) 0.3 mg to
treat diabetic retinopathy (DR) in patients
with diabetic macular oedema (DMO).
Diabetic retinopathy is the most common
diabetic eye disease In 2008, 33% of
adults with diabetes in the US aged 40
years or older had some form of DR.
Lucentis is administered by a physician
as an injection into the eye once a month.
It is intended to be used along with
appropriate interventions to control blood
sugar, blood pressure and cholesterol.
The drug's safety and efficacy to treat DR
with DMO were established in two clinical
studies involving 759 participants who
were treated and followed for three years.
In the two studies, participants being
treated with Lucentis showed significant
improvement in the severity of their DR at
two years compared to patients who did
not receive an injection.
The FDA granted Lucentis for DR with
DMO 'breakthrough therapy' designation
based on preliminary clinical evidence
indicating the drug may demonstrate a
substantial improvement over available
therapies for patients with serious or lifethreatening
conditions. The FDA previously
had approved Lucentis to treat DME and
macular edema secondary to retinal vein
occlusions, both of which cause fluid to
leak into the macula resulting in blurred
vision. Lucentis also is approved to treat
wet (neovascular) age-related macular
degeneration (AMD), a condition in which
abnormal blood vessels grow and leak
fluid into the macula.
Lucentis is marketed by South San
Francisco, California-based Genentech,
a subsidiary of Roche.
ISSUE 30
MAGAZINE
DESANG
PLUS • New Products • Groovy giveaways • News (for T1 and T2)
WE'RE NO
ANGELS
But business as usual is best for
diabetics at Christmas
MAKING
CARBS COUNT:
CHESTNUTS ROASTING
ON OPEN FIRES
Our magazine is free!
Sign up here! email address
the theatre, so were deeply upset and
offended when we heard the line about
how children will get diabetes if they
eat too much chocolate. We nearly left.
Thousands of people - including parents
and children - see the show every day. I
would hate for this to have a damaging
effect on the perception of Type 1
diabetes. The producers could not have
been more helpful though - a big theatre
listened to us and we made a difference."