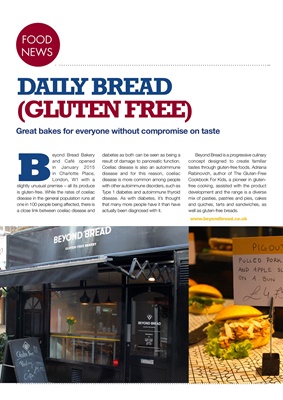 KIT
FOOD
NEWS
Beyond Bread Bakery
and Café opened
in January 2015
in Charlotte Place,
London, W1 with a
slightly unusual premise - all its produce
is gluten-free. While the rates of coeliac
disease in the general population runs at
one in 100 people being affected, there is
a close link between coeliac disease and
diabetes as both can be seen as being a
result of damage to pancreatic function.
Coeliac disease is also an autoimmune
disease and for this reason, coeliac
disease is more common among people
with other autoimmune disorders, such as
Type 1 diabetes and autoimmune thyroid
disease. As with diabetes, it's thought
that many more people have it than have
actually been diagnosed with it.
Beyond Bread is a progressive culinary
concept designed to create familiar
tastes through gluten-free foods. Adriana
Rabinovich, author of The Gluten-Free
Cookbook For Kids, a pioneer in glutenfree
cooking, assisted with the product
development and the range is a diverse
mix of pasties, pastries and pies, cakes
and quiches, tarts and sandwiches, as
well as gluten-free breads.
DAILY BREAD
(GLUTEN FREE)
Great bakes for everyone without compromise on taste