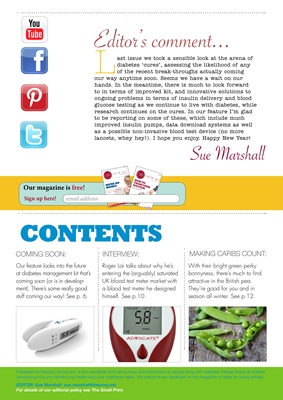 CONTENTS
Published by Desang Ltd the aim of this newsletter is to bring news and information to people living with diabetes. Please check all matters
concerning how you handle your health with your healthcare team. We welcome any feedback on the magazine or ideas for future articles.
EDITOR: Sue Marshall sue.marshall@desang.netshall" target="_blank" title="Visit sue.marshall">sue.marshall@desang.net
For details of our editorial policy see The Small Print.
Roger Lai talks about why he's
entering the (arguably) saturated
UK blood test meter market with
a blood test meter he designed
himself. See p.10.
Sue Marshall
COMING SOON:
Our feature looks into the future
at diabetes management kit that's
coming soon (or is in development). There's
some really good
stuff coming our way! See p. 6. Last issue we took a sensible look at the arena of
diabetes 'cures', assessing the likelihood of any
of the recent break-throughs actually coming
our way anytime soon. Seems we have a wait on our
hands. In the meantime, there is much to look forward
to in terms of improved kit, and innovative solutions to
ongoing problems in terms of insulin delivery and blood
glucose testing as we continue to live with diabetes, while
research continues on the cures. In our feature I'm glad
to be reporting on some of these, which include much
improved insulin pumps, data download systems as well
as a possible non-invasive blood test device (no more
lancets, whey hey!). I hope you enjoy. Happy New Year!
Editor's comment...
ISSUE 30
MAGAZINE
DESANG
PLUS • New Products • Groovy giveaways • News (for T1 and T2)
WE'RE NO
ANGELS
But business as usual is best for
diabetics at Christmas
MAKING
CARBS COUNT:
CHESTNUTS ROASTING
ON OPEN FIRES
Our magazine is free!
Sign up here! email address INTERVIEW:
With their bright green perky
bonnyness, there's much to find
attractive in the British pea.
They're good for you and in
season all winter. See p.12.
MAKING CARBS COUNT: