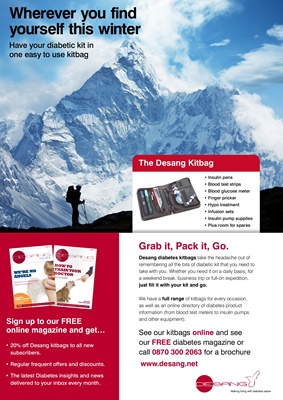 Have your diabetic kit in
one easy to use kitbag
Wherever you find
yourself this winter
See our kitbags online and see
our FREE diabetes magazine or
call 0870 300 2063 for a brochure
Making living with diabetes easier
Desang diabetes kitbags take the headache out of
remembering all the bits of diabetic kit that you need to
take with you. Whether you need it on a daily basis, for
a weekend break, business trip or full-on expedition,
just fill it with your kit and go.
We have a full range of kitbags for every occasion,
as well as an online directory of diabetes product
information (from blood test meters to insulin pumps
and other equipment).
Grab it, Pack it, Go.
• 20% off Desang kitbags to all new
subscribers.
• Regular frequent offers and discounts.
• The latest Diabetes insights and news
delivered to your inbox every month.
Sign up to our FREE
online magazine and get…
ISSUE 30
MAGAZINE
DESANG
PLUS • New Products • Groovy giveaways • News (for T1 and T2)
WE'RE NO
ANGELS
But business as usual is best for
diabetics at Christmas
MAKING
CARBS COUNT:
CHESTNUTS ROASTING
ON OPEN FIRES
The Desang Kitbag
• Insulin pens
• Blood test strips
• Blood glucose meter
• Finger pricker
• Hypo treatment
• Infusion sets
• Insulin pump supplies
• Plus room for spares