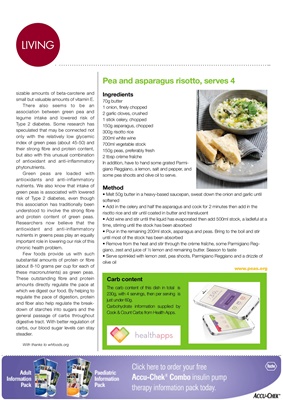 LIVINGLIVING
The carb content of this dish in total is
230g, with 4 servings, then per serving is
just under 60g.
Carbohydrate information supplied by
Cook & Count Carbs from Health Apps.
Pea and asparagus risotto, serves 4
Carb content
Ingredients
70g butter
1 onion, finely chopped
2 garlic cloves, crushed
1 stick celery, chopped
150g asparagus, chopped
300g risotto rice
200ml white wine
700ml vegetable stock
150g peas, preferably fresh
2 tbsp crème fraîche
In addition, have to hand some grated Parmigiano Reggiano, a lemon, salt and pepper,
and
some pea shoots and olive oil to serve.
Method
• Melt 50g butter in a heavy-based saucepan, sweat down the onion and garlic until
softened
• Add in the celery and half the asparagus and cook for 2 minutes then add in the
risotto rice and stir until coated in butter and translucent
• Add wine and stir until the liquid has evaporated then add 500ml stock, a ladleful at a
time, stirring until the stock has been absorbed
• Pour in the remaining 200ml stock, asparagus and peas. Bring to the boil and stir
until most of the stock has been absorbed
• Remove from the heat and stir through the crème fraîche, some Parmigiano Reggiano, zest and juice of ½ lemon and remaining
butter. Season to taste
• Serve sprinkled with lemon zest, pea shoots, Parmigiano Reggiano and a drizzle of
olive oil
sizable amounts of beta-carotene and
small but valuable amounts of vitamin E.
There also seems to be an
association between green pea and
legume intake and lowered risk of
Type 2 diabetes. Some research has
speculated that may be connected not
only with the relatively low glycemic
index of green peas (about 45-50) and
their strong fibre and protein content,
but also with this unusual combination
of antioxidant and anti-inflammatory
phytonutrients.
Green peas are loaded with
antioxidants and anti-inflammatory
nutrients. We also know that intake of
green peas is associated with lowered
risk of Type 2 diabetes, even though
this association has traditionally been
understood to involve the strong fibre
and protein content of green peas.
Researchers now believe that the
antioxidant and anti-inflammatory
nutrients in greens peas play an equally
important role in lowering our risk of this
chronic health problem.
Few foods provide us with such
substantial amounts of protein or fibre
(about 8-10 grams per cup for each of
these macronutrients) as green peas.
These outstanding fibre and protein
amounts directly regulate the pace at
which we digest our food. By helping to
regulate the pace of digestion, protein
and fiber also help regulate the breakdown of starches
into sugars and the
general passage of carbs throughout
digestive tract. With better regulation of
carbs, our blood sugar levels can stay
steadier.
With thanks to whfoods.org