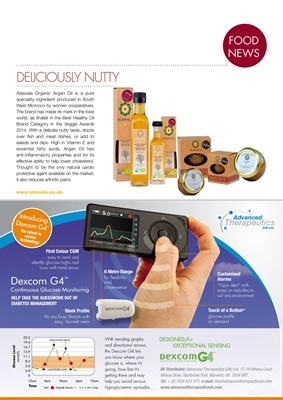 FOOD
NEWS
DELICIOUSLY NUTTY
Alassala Organic Argan Oil is a pure
speciality ingredient produced in South
West Morocco by women cooperatives.
The brand has made its mark in the food
world, as finalist in the Best Healthy Oil
Brand Category in the Veggie Awards
2014. With a delicate nutty taste, drizzle
over fish and meat dishes, or add to
salads and dips. High in Vitamin E and
essential fatty acids, Argan Oil has
anti-inflammatory properties and for its
effective ability to help lower cholesterol.
Thought to be the only natural cardio
protective agent available on the market,
it also reduces arthritic pains.