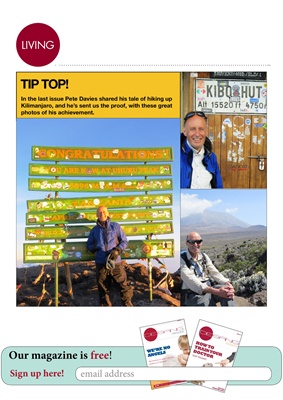 LIVINGLIVING
TIP TOP!
In the last issue Pete Davies shared his tale of hiking up
Kilimanjaro, and he's sent us the proof, with these great
photos of his achievement.
ISSUE 30
MAGAZINE
DESANG
PLUS • New Products • Groovy giveaways • News (for T1 and T2)
WE'RE NO
ANGELS
But business as usual is best for
diabetics at Christmas
MAKING
CARBS COUNT:
CHESTNUTS ROASTING
ON OPEN FIRES
Our magazine is free!
Sign up here! email address