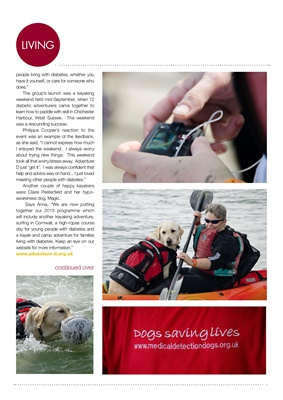 LIVINGLIVINGcontinued over
people living with diabetes, whether you
have it yourself, or care for someone who
does."
The group's launch was a kayaking
weekend held mid-September, when 12
diabetic adventurers came together to
learn how to paddle with skill in Chichester
Harbour, West Sussex. The weekend
was a resounding success.
Philippa Cooper's reaction to the
event was an example of the feedback,
as she said, "I cannot express how much
I enjoyed the weekend. I always worry
about trying new things. This weekend
took all that worry/stress away. Adventure
D just 'get it'. I was always confident that
help and advice was on hand... I just loved
meeting other people with diabetes."
Another couple of happy kayakers
were Claire Pesterfield and her hypoawareness
dog, Magic.
Says Anna, "We are now putting
together our 2015 programme which
will include another kayaking adventure,
surfing in Cornwall, a high-ropes course
day for young people with diabetes and
a kayak and camp adventure for families
living with diabetes. Keep an eye on our
website for more information."