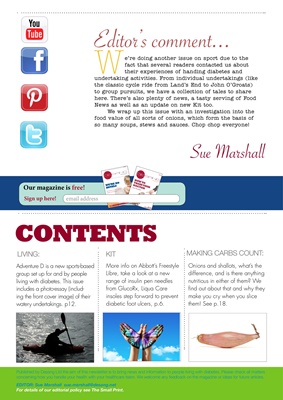 CONTENTS
Published by Desang Ltd the aim of this newsletter is to bring news and information to people living with diabetes. Please check all matters
concerning how you handle your health with your healthcare team. We welcome any feedback on the magazine or ideas for future articles.
EDITOR: Sue Marshall sue.marshall@desang.netshall" target="_blank" title="Visit sue.marshall">sue.marshall@desang.net
For details of our editorial policy see The Small Print.
In a new series, we look at
new products before they come
to market. This issue, it's Abbott's
Freestyle Libre, not quite
CGM but so much more than
plain old blood testing, p.4. Sue Marshall
LIVING:
Adventure D is a new sports-based
group set up for and by people
living with diabetes. This issue
includes a photo-essay (including the front cover image) of their
watery undertakings. p10. We're doing another issue on sport due to the
fact that several readers contacted us about
their experiences of handing diabetes and
doing sporting activities. From individual undertakings
(like the classic cycle ride from Land's End to John
O'Groats) to group pursuits, we have a collection of tales
to share here. There's also plenty of news, a tasty serving
of Food News as well as an update on current Kit too.
We wrap up this issue with an investigation into the food
value of all sorts of onions, which form the basis of so
many soups, stews and sauces. Chop chop everyone!
Editor's comment...
ISSUE 30
MAGAZINE
DESANG
PLUS • New Products • Groovy giveaways • News (for T1 and T2)
WE'RE NO
ANGELS
But business as usual is best for
diabetics at Christmas
MAKING
CARBS COUNT:
CHESTNUTS ROASTING
ON OPEN FIRES
Our magazine is free!
Sign up here! email address
KIT
Onions and shallots, what's the
difference, and is there anything
nutritious in eithe of them? We
find out on p.16
MAKING CARBS COUNT: