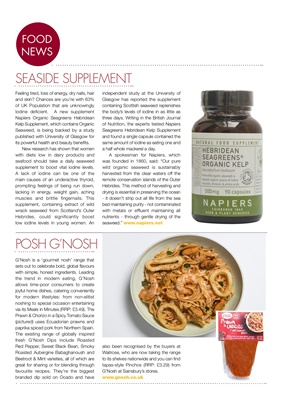 FOOD
NEWS
SEASIDE SUPPLEMENT
Feeling tired, loss of energy, dry nails, hair
and skin? Chances are you're with 63%
of UK Population that are unknowingly
Iodine deficient. A new supplement
Napiers Organic Seagreens Hebridean
Kelp Supplement, which contains Organic
Seaweed, is being backed by a study
published with University of Glasgow for
its powerful health and beauty benefits.
New research has shown that women
with diets low in dairy products and
seafood should take a daily seaweed
supplement to boost vital iodine levels.
A lack of iodine can be one of the
main causes of an underactive thyroid,
prompting feelings of being run down,
lacking in energy, weight gain, aching
muscles and brittle fingernails. This
supplement, containing extract of wild
wrack seaweed from Scotland's Outer
Hebrides, could significantly boost
low iodine levels in young women. An
independent study at the University of
Glasgow has reported the supplement
containing Scottish seaweed replenishes
the body's levels of iodine in as little as
three days. Writing in the British Journal
of Nutrition, the experts tested Napiers
Seagreens Hebridean Kelp Supplement
and found a single capsule contained the
same amount of iodine as eating one and
a half whole mackerel a day.
A spokesman for Napiers, which
was founded in 1860, said: "Our pure
wild organic seaweed is sustainably
harvested from the clear waters off the
remote conservation islands of the Outer
Hebrides. This method of harvesting and
drying is essential in preserving the ocean
- it doesn't strip out all life from the sea
bed maintaining purity - not contaminated
with metals or effluent maintaining all
nutrients - through gentle drying of the
seaweed." www.napiers.net
G'Nosh is a 'gourmet nosh' range that
sets out to celebrate bold, global flavours
with simple, honest ingredients. Leading
the trend in modern eating, G'Nosh
allows time-poor consumers to create
joyful home dishes, catering conveniently
for modern lifestyles: from non-elitist
noshing to special occasion entertaining
via its Meals in Minutes (RRP: £3.49). The
Prawn & Chorizo in a Spicy Tomato Sauce
(pictured) uses Ecuadorian prawns and
paprika spiced pork from Northern Spain.
The existing range of globally inspired
fresh G'Nosh Dips include Roasted
Red Pepper, Sweet Black Bean, Smoky
Roasted Aubergine Babaghanoush and
Beetroot & Mint varieties, all of which are
great for sharing or for blending through
favourite recipes. They're the biggest
branded dip sold on Ocado and have
also been recognised by the buyers at
Waitrose, who are now taking the range
to its shelves nationwide and you can find
tapas-style Pinchos (RRP: £3.29) from
G'Nosh at Sainsbury's stores.
POSH G'NOSH