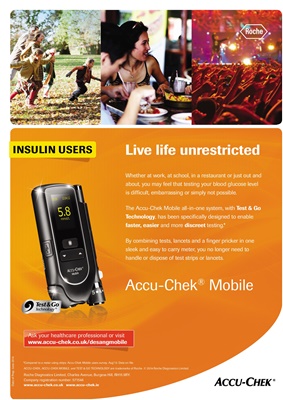 INSULIN USERS
*Compared to a meter using strips: Accu-Chek Mobile users survey. Aug'13. Data on fi le.
ACCU-CHEK, ACCU-CHEK MOBILE, and TEST & GO TECHNOLOGY are trademarks of Roche. © 2014 Roche Diagnostics Limited.
Roche Diagnostics Limited, Charles Avenue, Burgess Hill, RH15 9RY.
Company registration number: 571546
www.accu-chek.co.uk www.accu-chek.ie
Ask your healthcare professional or visit
www.accu-chek.co.uk/desangmobile
Date of Prep: June 2014 Accu-Chek® Mobile
Live life unrestricted
Whether at work, at school, in a restaurant or just out and
about, you may feel that testing your blood glucose level
is diffi cult, embarrassing or simply not possible.
The Accu-Chek Mobile all-in-one system, with Test & Go
Technology, has been specifi cally designed to enable
faster, easier and more discreet testing.*
By combining tests, lancets and a fi nger pricker in one
sleek and easy to carry meter, you no longer need to
handle or dispose of test strips or lancets.