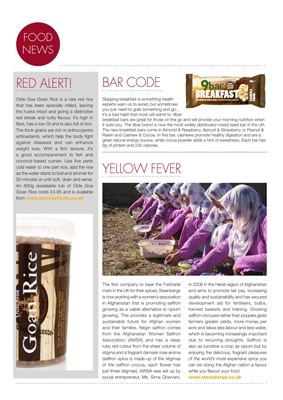 FOOD
NEWS
RED ALERT!
Olde Goa Goan Rice is a rare red rice
that has been specially milled, leaving
the husks intact and giving a distinctive
red streak and nutty flavour. It's high in
fibre, has a low GI and is also full of iron.
The thick grains are rich in anthocyanins
antioxidants, which help the body fight
against diseases and can enhance
weight loss. With a firm texture, it's
a good accompaniment to fish and
coconut-based curries. Use five parts
cold water to one part rice, add the rice
as the water starts to boil and simmer for
50 minutes or until soft, drain and serve.
An 800g resealable tub of Olde Goa
Goan Rice costs £4.95 and is available
BAR CODE
The first company to bear the Fairtrade
mark in the UK for their spices, Steenbergs
is now working with a women's association
in Afghanistan that is promoting saffron
growing as a viable alternative to opium
growing. This provides a legitimate and
sustainable future for Afghan women
and their families. Negin saffron comes
from the Afghanistan Women Saffron
Association (AWSA) and has a deep
ruby red colour from the sheer volume of
stigma and a fragrant damask rose aroma
(saffron spice is made up of the stigmas
of the saffron crocus, each flower has
just three stigmas). AWSA was set up by
social entrepreneur, Ms. Sima Gharvani,
in 2008 in the Herat region of Afghanistan
and aims to promote fair pay, increasing
quality and sustainability and has secured
development aid for fertilisers, bulbs,
harvest baskets and training. Growing
saffron crocuses rather than poppies gives
farmers greater yields, more money per
acre and takes less labour and less water,
which is becoming increasingly important
due to recurring droughts. Saffron is
also as lucrative a crop as opium but by
enjoying the delicious, fragrant pleasures
of the world's most expensive spice you
can be doing the Afghan nation a favour
while you flavour your food.
Skipping breakfast is something health
experts warn us to avoid, but sometimes
you just need to grab something and go…
it's a bad habit that most will admit to. 9bar
breakfast bars are great for those on the go and will provide your morning nutrition when
it suits you. The 9bar brand is now the most widely distributed mixed seed bar in the UK.
The new breakfast bars come in Almond & Raspberry, Apricot & Strawberry or Peanut &
Raisin and Cashew & Cocoa. In this bar, cashews promote healthy digestion and are a
great natural energy source, while cocoa powder adds a hint of sweetness. Each bar has
9g of protein and 235 calories.
YELLOW FEVER