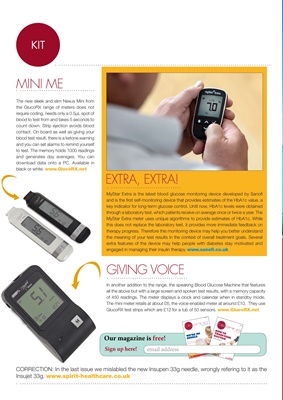 KIT
EXTRA, EXTRA!
MyStarExtra is the latest blood glucose monitoring device developed by Sanofi and
is the first self-monitoring device that provides estimates of the HbA1c value, a
key indicator for long-term glucose control. Until now, HbA1c levels were obtained
through a laboratory test, which patients receive on average once or twice a year. The
MyStar Extra meter uses unique algorithms to provide estimates of HbA1c. While
this does not replace the laboratory test, it provides more immediate feedback on
therapy progress. Therefore this monitoring device may help you better understand
the meaning of your test results in the context of overall treatment goals. Several
extra features of the device may help people with diabetes stay motivated and
engaged in managing their insulin therapy. www.sanofi.co.uk
MINI ME
The new sleek and slim Nexus Mini from
the GlucoRX range of meters does not
require coding, needs only a 0.5µL spot of
blood to test from and takes 5 seconds to
count down. Strip ejection avoids blood
contact. On board as well as giving your
blood test result, there is a ketone warning
and you can set alarms to remind yourself
to test. The memory holds 1000 readings
and generates day averages. You can
download data onto a PC. Available in
black or white. www.glucorx.net
In another addition to the range, the speaking Blood Glucose Machine that features
all the above but with a large screen and spoken test results, with a memory capacity
of 450 readings. The meter displays a clock and calendar when in standby mode.
The mini meter retails at about £6, the voice-enabled meter at around £10. They use
GlucoRX test strips which are £12 for a tub of 50 sensors. www.glucorx.net
ISSUE 30
MAGAZINE
DESANG
PLUS • New Products • Groovy giveaways • News (for T1 and T2)
WE'RE NO
ANGELS
But business as usual is best for
diabetics at Christmas
MAKING
CARBS COUNT:
CHESTNUTS ROASTING
ON OPEN FIRES
Our magazine is free!
Sign up here! email address
GIVING VOICE
CORRECTION: In the last issue we mislabled the new Insupen 33g needle, wrongly refering to it as the
Insujet 33g. www.spirit-healthcare.co.uk