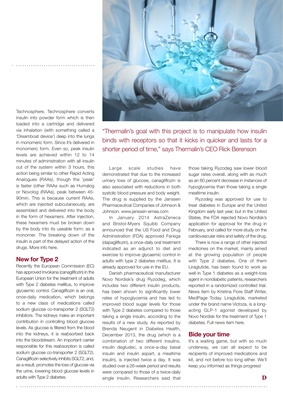 Technosphere. Technosphere converts
insulin into powder form which is then
loaded into a cartridge and delivered
via inhalation (with something called a
'Dreamboat device') deep into the lungs
in monomeric form. Since it's delivered in
monomeric form. Even so, peak insulin
levels are achieved within 12 to 14
minutes of administration with all insulin
out of the system within 3 hours, this
action being similar to other Rapid Acting
Analogues (RAAs), though the 'peak'
is faster (other RAAs such as Humalog
or Novolog (RAAs), peak between 45-
90min. This is because current RAAs,
which are injected subcutaneously, are
assembled and delivered into the body
in the form of hexamers. After injection,
these hexamers must be broken down
by the body into its useable form: as a
monomer. The breaking down of the
insulin is part of the delayed action of the
drugs. More info here.
New for Type 2
Recently the European Commission (EC)
has approved Invokana (canagliflozin) in the
European Union for the treatment of adults
with Type 2 diabetes mellitus, to improve
glycaemic control. Canagliflozin is an oral,
once-daily medication, which belongs
to a new class of medications called
sodium glucose co-transporter 2 (SGLT2)
inhibitors. The kidneys make an important
contribution in controlling blood glucose
levels. As glucose is filtered from the blood
into the kidneys, it is reabsorbed back
into the bloodstream. An important carrier
responsible for this reabsorption is called
sodium glucose co-transporter 2 (SGLT2).
Canagliflozin selectively inhibits SGLT2, and,
as a result, promotes the loss of glucose via
the urine, lowering blood glucose levels in
adults with Type 2 diabetes.
Large scale studies have
demonstrated that due to the increased
urinary loss of glucose, canagliflozin is
also associated with reductions in both
systolic blood pressure and body weight.
The drug is supplied by the Janssen
Pharmaceutical Companies of Johnson &
Johnson. www.janssen-emea.com
In January 2014 AstraZeneca
and Bristol-Myers Squibb Company
announced that the US Food and Drug
Administration (FDA) approved Farxiga
(dapagliflozin), a once-daily oral treatment
indicated as an adjunct to diet and
exercise to improve glycaemic control in
adults with type 2 diabetes mellitus. It is
already approved for use in the EU.
Danish pharmaceutical manufacturer
Novo Nordisk's drug Ryzodeg, which
includes two different insulin products,
has been shown to significantly lower
rates of hypoglycemia and has led to
improved blood sugar levels for those
with Type 2 diabetes compared to those
taking a single insulin, according to the
results of a new study. As reported by
Brenda Neugent in Diabetes Health,
December 2013, the drug (which is a
combination of two different insulins,
insulin degludec, a once-a-day basal
insulin and insulin aspart, a mealtime
insulin), is injected twice a day. It was
studied over a 26-week period and results
were compared to those of a twice-daily
single insulin. Researchers said that
those taking Ryzodeg saw lower blood
sugar rates overall, along with as much
as an 80 percent decrease in instances of
hypoglycemia than those taking a single
mealtime insulin.
Ryzodeg was approved for use to
treat diabetes in Europe and the United
Kingdom early last year, but in the United
States, the FDA rejected Novo Nordisk's
application for approval for the drug in
February, and called for more study on the
cardiovascular risks and safety of the drug.
There is now a range of other injected
medicines on the market, mainly aimed
at the growing population of people
with Type 2 diabetes. One of them
Liraglutide, has been found to work as
well in Type 1 diabetes as a weight-loss
agent in nondiabetic patients, researchers
reported in a randomized controlled trial.
News item by Kristina Fiore Staff Writer,
MedPage Today. Liraglutide, marketed
under the brand name Victoza, is a longacting
GLP-1 agonist developed by
Novo Nordisk for the treatment of Type 1
diabetes. Full news item here.
Bide your time
It's a waiting game, but with so much
underway, we can all expect to be
recipients of improved medications and
kit, and not before too long either. We'll
keep you informed as things progress!d
"Thermalin's goal with this project is to manipulate how insulin
binds with receptors so that it kicks in quicker and lasts for a
shorter period of time," says Thermalin's CEO Rick Berenson