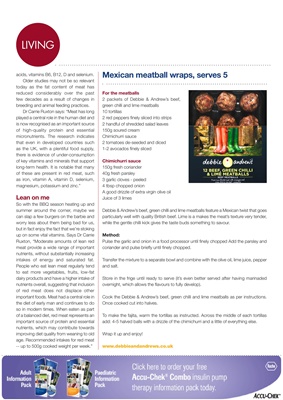 LIVING
Mexican meatball wraps, serves 5
Debbie & Andrew's beef, green chilli and lime meatballs feature a Mexican twist that goes
particularly well with quality British beef. Lime is a makes the meat's texture very tender,
while the gentle chilli kick gives the taste buds something to savour.
Method:
Pulse the garlic and onion in a food processor until finely chopped Add the parsley and
coriander and pulse briefly until finely chopped.
Transfer the mixture to a separate bowl and combine with the olive oil, lime juice, pepper
and salt.
Store in the frige until ready to serve (it's even better served after having marinaded
overnight, which allows the flavours to fully develop).
Cook the Debbie & Andrew's beef, green chilli and lime meatballs as per instructions.
Once cooked cut into halves.
To make the fajita, warm the tortillas as instructed. Across the middle of each tortillas
add: 4-5 halved balls with a drizzle of the chimichurri and a little of everything else.
Wrap it up and enjoy!
For the meatballs
2 packets of Debbie & Andrew's beef,
green chilli and lime meatballs
10 tortillas
2 red peppers finely sliced into strips
2 handful of shredded salad leaves
150g soured cream
Chimichurri sauce
2 tomatoes de-seeded and diced
1-2 avocados finely sliced
Chimichurri sauce
150g fresh coriander
40g fresh parsley
3 garlic cloves - peeled
4 tbsp chopped onion
A good drizzle of extra virgin olive oil
Juice of 3 limes
acids, vitamins B6, B12, D and selenium.
Older studies may not be so relevant
today as the fat content of meat has
reduced considerably over the past
few decades as a result of changes in
breeding and animal feeding practices.
Dr Carrie Ruxton says: "Meat has long
played a central role in the human diet and
is now recognised as an important source
of high-quality protein and essential
micronutrients. The research indicates
that even in developed countries such
as the UK, with a plentiful food supply,
there is evidence of under-consumption
of key vitamins and minerals that support
long-term health. It is notable that many
of these are present in red meat, such
as iron, vitamin A, vitamin D, selenium,
magnesium, potassium and zinc."
Lean on me
So with the BBQ season heating up and
summer around the corner, maybe we
can slap a few burgers on the barbie and
worry less about them being bad for us,
but in fact enjoy the fact that we're stoking
up on some vital vitamins. Says Dr Carrie
Ruxton, "Moderate amounts of lean red
meat provide a wide range of important
nutrients, without substantially increasing
intakes of energy and saturated fat.
People who eat lean meat regularly tend
to eat more vegetables, fruits, low-fat
dairy products and have a higher intake of
nutrients overall, suggesting that inclusion
of red meat does not displace other
important foods. Meat had a central role in
the diet of early man and continues to do
so in modern times. When eaten as part
of a balanced diet, red meat represents an
important source of protein and essential
nutrients, which may contribute towards
improving diet quality from weaning to old
age. Recommended intakes for red meat
-- up to 500g cooked weight per week."