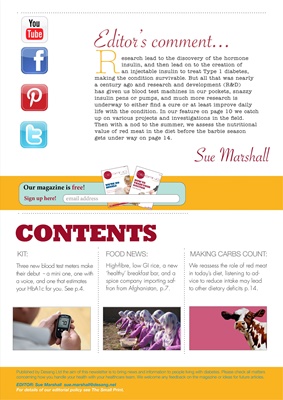 CONTENTS
Published by Desang Ltd the aim of this newsletter is to bring news and information to people living with diabetes. Please check all matters
concerning how you handle your health with your healthcare team. We welcome any feedback on the magazine or ideas for future articles.
EDITOR: Sue Marshall sue.marshall@desang.netshall" target="_blank" title="Visit sue.marshall">sue.marshall@desang.net
For details of our editorial policy see The Small Print.
High-fibre, low GI rice, a new
'healthy' breakfast bar, and a
spice company importing saffron from Afghanistan, p.8.
MAKING CARBS COUNT: red meat
Sue Marshall
KIT:
Three new blood test meters make
their debut -- a mini one, one with
a voice, and one that estimates
your HbA1c for you. See p.4.