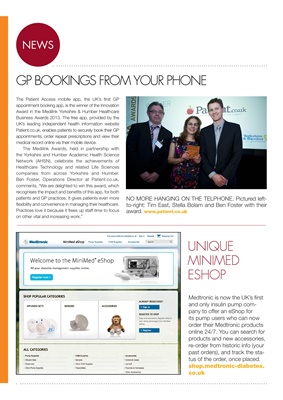 NEWS
GP BOOKINGS FROM YOUR PHONE
The Patient Access mobile app, the UK's first GP
appointment booking app, is the winner of the Innovation
Award in the Medilink Yorkshire & Humber Healthcare
Business Awards 2013. The free app, provided by the
UK's leading independent health information website
patient.co.uk, enables patients to securely book their GP
appointments, order repeat prescriptions and view their
medical record online via their mobile device.
The Medilink Awards, held in partnership with
the Yorkshire and Humber Academic Health Science
Network (AHSN), celebrate the achievements of
Healthcare Technology and related Life Sciences
companies from across Yorkshire and Humber.
Ben Foster, Operations Director at patient.co.uk,
comments, "We are delighted to win this award, which
recognises the impact and benefits of this app, for both
patients and GP practices. It gives patients even more
flexibility and convenience in managing their healthcare.
Practices love it because it frees up staff time to focus
on other vital and increasing work."
NO MORE HANGING ON THE TELPHONE.
Pictured L-R: Tim East, Stella Bolam and Ben Foster of
patient.co.uk with their award.
Medtronic is now the UK's first
and only insulin pump company to offer
an eShop for
its pump users who can now
order their Medtronic products
online 24/7. You can search for
products and new accessories,
re-order from historic info (your
past orders), and track the status of the order,
once placed.
shop.medtronic-diabetes.
UNIQUE
MINIMED
ESHOP