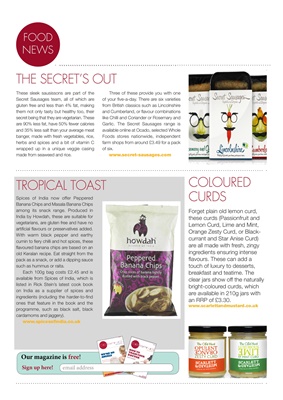 LIVINGLIVING
FOOD
NEWS
THE SECRET'S OUT
These sleek sausissons are part of the
Secret Sausages team, all of which are
gluten free and less than 4% fat, making
them not only tasty but healthy too, their
secret being that they are vegetarian. These
are 90% less fat, have 50% fewer calories
and 35% less salt than your average meat
banger, made with fresh vegetables, rice,
herbs and spices and a bit of vitamin C
wrapped up in a unique veggie casing
made from seaweed and rice.
TROPICAL TOAST
Spices of India now offer Peppered
Banana Chips and Masala Banana Chips
among its snack range. Produced in
India by Howdah, these are suitable for
vegetarians, are gluten free and have no
artificial flavours or preservatives added.
With warm black pepper and earthy
cumin to fiery chilli and hot spices, these
flavoured banana chips are based on an
old Keralan recipe. Eat straight from the
pack as a snack, or add a dipping sauce
such as hummus or raita.
Each 100g bag costs £2.45 and is
available from Spices of India, which is
listed in Rick Stein's latest cook book
on India as a supplier of spices and
ingredients (including the harder-to-find
ones that feature in the book and the
programme, such as black salt, black
cardamoms and jaggery).
Three of these provide you with one
of your five-a-day. There are six varieties
from British classics such as Lincolnshire
and Cumberland, or flavour combinations
like Chilli and Coriander or Rosemary and
Garlic. The Secret Sausages range is
available online at Ocado, selected Whole
Foods stores nationwide, independent
farm shops from around £3.49 for a pack
of six.
ISSUE 30
MAGAZINE
DESANG
PLUS • New Products • Groovy giveaways • News (for T1 and T2)
WE'RE NO
ANGELS
But business as usual is best for
diabetics at Christmas
MAKING
CARBS COUNT:
CHESTNUTS ROASTING
ON OPEN FIRES
Our magazine is free!
Sign up here! email address
COLOURED
CURDS
Forget plain old lemon curd,
these curds (Passionfruit and
Lemon Curd, Lime and Mint,
Orange Zesty Curd, or Blackcurrant and Star Anise Curd)
are all made with fresh, zingy
ingredients ensuring intense
flavours. These can add a
touch of luxury to desserts,
breakfast and teatime. The
clear jars show off the naturally
bright-coloured curds, which
are available in 210g jars with
an RRP of £3.30.