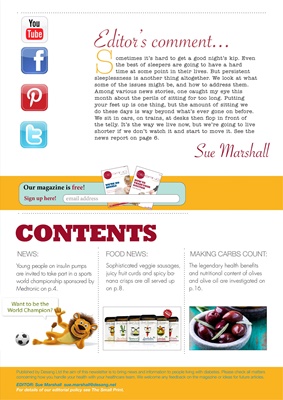 CONTENTS
Published by Desang Ltd the aim of this newsletter is to bring news and information to people living with diabetes. Please check all matters
concerning how you handle your health with your healthcare team. We welcome any feedback on the magazine or ideas for future articles.
EDITOR: Sue Marshall sue.marshall@desang.netshall" target="_blank" title="Visit sue.marshall">sue.marshall@desang.net
For details of our editorial policy see The Small Print.
Sophisticated veggie sausages,
juicy fruit curds and spicy banana crisps are all served
up
on p.8.
MAKING CARBS COUNT:
Sue Marshall
NEWS:
Young people on insulin pumps
are invited to take part in a sports
world championship sponsored by
Medtronic on p.4.
Sometimes it's hard to get a good night's kip. Even
the best of sleepers are going to have a hard
time at some point in their lives. But persistent
sleeplessness is another thing altogether. We look at what
some of the issues might be, and how to address them.
Among various news stories, one caught my eye this
month about the perils of sitting for too long. Putting
your feet up is one thing, but the amount of sitting we
do these days is way beyond what's ever gone on before.
We sit in cars, on trains, at desks then flop in front of
the telly. It's the way we live now, but we're going to live
shorter if we don't watch it and start to move it. See the
news report on page 6.
Editor's comment...
ISSUE 30
MAGAZINE
DESANG
PLUS • New Products • Groovy giveaways • News (for T1 and T2)
WE'RE NO
ANGELS
But business as usual is best for
diabetics at Christmas
MAKING
CARBS COUNT:
CHESTNUTS ROASTING
ON OPEN FIRES
Our magazine is free!
Sign up here! email address
FOOD NEWS:
The legendary health benefits
and nutritional content of olives
and olive oil are investigated on
p.16.