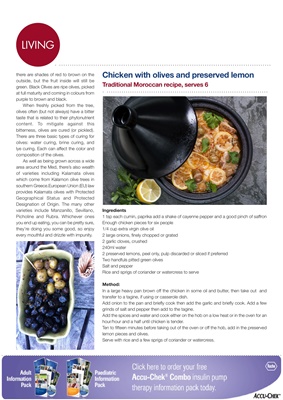 LIVINGLIVING
Chicken with olives and lemon
Traditional Moroccan recipe, serves 6
outside, but the fruit inside will still be
green. Black Olives are ripe olives, picked
at full maturity and coming in colours from
purple to brown and black.
When freshly picked from the tree,
olives often (but not always) have a bitter
taste that is related to their phytonutrient
content. To mitigate against this
bitterness, olives are cured (or pickled).
There are three basic types of curing for
olives: water curing, brine curing, and
lye curing. Each can affect the color and
composition of the olives.
As well as being grown across a wide
area around the Med, there's also wealth
of varieties including Kalamata olives
which come from Kalamon olive trees in
southern greece.european Union (EU) law
provides Kalamata olives with Protected
Geographical Status and Protected
Designation of Origin. The many other
varieties include Manzanillo, Sevillano,
Picholine and Rubra. Whichever ones
you end up eating, you can be pretty sure,
they're doing you some good, so enjoy
every mouthful and drizzle with impunity.
Ingredients
1 tsp cumin
1 tsp paprika
1 tsp turmeric
a shake of cayenne pepper
enough chicken pieces for six people
1/4 cup extra virgin olive oil
1 large onion, finely chopped
2 garlic cloves, crushed
1 pint chicken stock
2 preserved lemons, peel only, pulp discarded
two small handfuls pitted green olives
Salt and pepper
Method:
In a large heavy pan brown off the onion.
Add garlic and briefly cook.
Add in all the spices and stir for a minute.
Add the chicken pieces to the pan and brown off.
Add in all the other ingredients, cover and cook for 20 minutes.