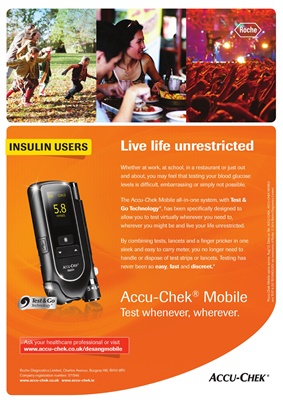 INSULIN USERS
Roche Diagnostics Limited, Charles Avenue, Burgess Hill, RH15 9RY.
Company registration number: 571546
www.accu-chek.co.uk www.accu-chek.ie
Accu-Chek® Mobile
Test whenever, wherever.
Live life unrestricted
Whether at work, at school, in a restaurant or just out
and about, you may feel that testing your blood glucose
levels is diffi cult, embarrassing or simply not possible.
The Accu-Chek Mobile all-in-one system, with Test &
Go Technology®, has been specifi cally designed to
allow you to test virtually whenever you need to,
wherever you might be and live your life unrestricted.
By combining tests, lancets and a fi nger pricker in one
sleek and easy to carry meter, you no longer need to
handle or dispose of test strips or lancets. Testing has
never been so easy, fast and discreet.*
Ask your healthcare professional or visit
www.accu-chek.co.uk/desangmobile
*Accu-Chek Mobile users survey. Aug'13. Data on fi le. ACCU-CHEK, ACCU-CHEK MOBILE
and TEST & GO TECHNOLOGY are trademarks of Roche. © 2014 Roche Diagnostics Limited.