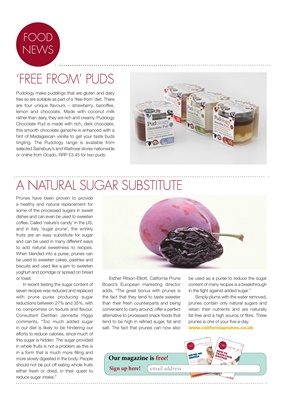 LIVINGLIVING
FOOD
NEWS
'FREE FROM' PUDS
Pudology make puddings that are gluten and dairy
free so are suitable as part of a 'free-from' diet. There
are four unique flavours - strawberry, banoffee,
lemon and chocolate. Made with coconut milk
rather than dairy, they are rich and creamy. Pudology
Chocolate Pud is made with rich, dark chocolate,
this smooth chocolate ganache is enhanced with a
hint of Madagascan vanilla to get your taste buds
tingling. The Pudology range is available from
selected Sainsbury's and Waitrose stores nationwide
or online from Ocado, RRP £3.45 for two puds.
A NATURAL SUGAR SUBSTITUTE
Prunes have been proven to provide
a healthy and natural replacement for
some of the processed sugars in sweet
dishes and can even be used to sweeten
coffee. Called 'nature's candy' in the US,
and in Italy 'sugar prune', the wrinkly
fruits are an easy substitute for sugar
and can be used in many different ways
to add natural sweetness to recipes.
When blended into a puree, prunes can
be used to sweeten cakes, pastries and
biscuits and used like a jam to sweeten
yoghurt and porridge or spread on bread
or toast.
In recent testing the sugar content of
seven recipes was reduced and replaced
with prune puree producing sugar
reductions between 27% and 35%, with
no compromise on texture and flavour.
Consultant Dietitian Jennette Higgs
comments, "Too much added sugar
in our diet is likely to be hindering our
efforts to reduce calories, since much of
this sugar is hidden. The sugar provided
in whole fruits is not a problem as this is
in a form that is much more filling and
more slowly digested in the body. People
should not be put off eating whole fruits
either fresh or dried, in their quest to
reduce sugar intake."
ISSUE 30
MAGAZINE
DESANG
PLUS • New Products • Groovy giveaways • News (for T1 and T2)
WE'RE NO
ANGELS
But business as usual is best for
diabetics at Christmas
MAKING
CARBS COUNT:
CHESTNUTS ROASTING
ON OPEN FIRES
Our magazine is free!
Sign up here! email address
Esther Ritson-Elliott, California Prune
Board's European marketing director
adds, "The great bonus with prunes is
the fact that they tend to taste sweeter
than their fresh counterparts and being
convenient to carry around, offer a perfect
alternative to processed snack foods that
tend to be high in refined sugar, fat and
salt. The fact that prunes can now also
be used as a puree to reduce the sugar
content of many recipes is a breakthrough
in the fight against added sugar."
Simply plums with the water removed,
prunes contain only natural sugars and
retain their nutrients and are naturally
fat-free and a high source of fibre. Three
prunes is one of your five-a-day.