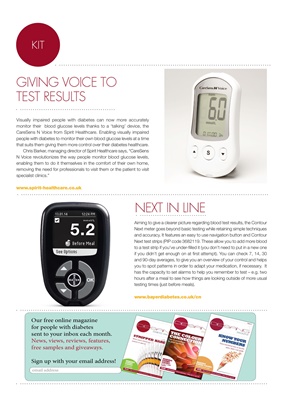 KITKIT
NEXT IN LINE
GIVING
VOICE TO
TEST RESULTS
Our free online magazine
for people with diabetes
sent to your inbox each month.
News, views, reviews, features,
free samples and giveaways.
Sign up with your email address!
email address
Aiming to give a clearer picture regarding blood test results, the Contour Next meter
goes beyond basic testing while retaining simple techniques and accuracy. It features an
easy to use navigation button and Contour Next test strips (PIP code 3682119. These
allow you to add more blood to a test strip if you've under-filled it (you don't need to put
in a new one if you didn't get enough on at first attempt). You can check 7, 14, 30 and
90-day averages, to give you an overview of your control and helps you to spot patterns
in order to adapt your medication, if necessary. It has the capacity to set alarms to help
you remember to test - e.g. two hours after a meal to see how things are looking outside
of more usual testing times (just before meals).
Visually impaired people with diabetes
can now more accurately monitor their
blood glucose levels thanks to a 'talking'
device, the CareSens N Voice from Spirit
Healthcare. Enabling visually impaired
people with diabetes to monitor their own
blood glucose levels at a time that suits
them giving them more control over their
diabetes healthcare.
Chris Barker, managing director of
Spirit Healthcare says, "CareSens N
Voice revolutionizes the way people
monitor blood glucose levels, enabling
them to do it themselves in the comfort
of their own home, removing the need for
professionals to visit them or the patient to
visit specialist clinics."