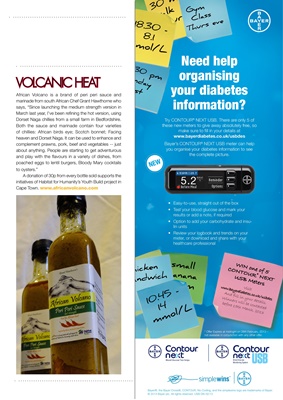 30 lk Gymy
wa urda lass e
C
18.30Sat hurs
ev
- T
8.1
mmo
l/L
2.30
Need help
Sun pm
organising
VolCANiC HEAT day
african Volcano is a brand of peri peri sauce and
roa
st your diabetes
information?
marinade from south african Chef Grant Hawthorne who
says, "since launching the medium strength version in
March last year, I've been refining the hot version, using
Dorset naga chillies from a small farm in Bedfordshire. Try CONTOUR® NEXT USB. There are only 5 of
Both the sauce and marinade contain four varieties these new meters to give away absolutely free, so
of chillies: african birds eye; scotch bonnet; facing make sure to fill in your details at
heaven and Dorset naga. It can be used to enhance and www.bayerdiabetes.co.uk/usbdes
complement prawns, pork, beef and vegetables -- just Bayer's CONTOUR® NEXT USB meter can help
about anything. People are starting to get adventurous you organise your diabetes information to see
and play with the flavours in a variety of dishes, from the complete picture.
poached eggs to lentil burgers, Bloody Mary cocktails
NEW
to oysters."
a donation of 30p from every bottle sold supports the
initiatives of Habitat for Humanity's youth Build project in
Cape town. www.africanvolcano.com
• Easy-to-use, straight out of the box
• Test your blood glucose and mark your
results or add a note, if required
• Option to add your carbohydrate and insu-
lin units
• Review your logbook and trends on your
meter, or download and share with your
healthcare professional
small WI
chicken b CoNtN one of 5
anana ou
sandwich 4 pm
uSB r® NEXt
Meter
s
www.b
ayer Visit
- And fi diabetes.co.u
10. 45 Winn ll in your k/usbdes
ers det
before will be con ails.
14 /L 15th M ta
arch, cted
l 2013
m mo
* Offer Expires at midnight on 28th February, 2013 –
not available in conjunction with any other offer.
crum
p
and j et Blood Glucose
am Monitoring System
®
Bayer®, the Bayer Cross®, CONTOUR, No Coding, and the simplewins logo are trademarks of Bayer.
© 2013 Bayer plc. All rights reserved. USB DN 02/13