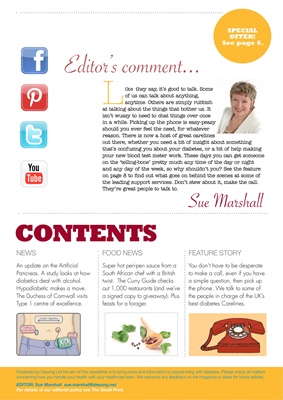 sPEcial
oFFErs!
see pages 6
and 11.
Editor's comment...
L ike they say, it's good to talk. Some
of us, we can talk about anything.
Others are simply rubbish at talking
about the things that bother us. Is it wussy
to need to chat things over? Should we be
able to make equipment work without having
to call someone for help? The fact is that
picking up the phone is easy-peasy should
you ever feel the need, for whatever reason. There is now a host
of great carelines out there, whether you need a bit of insight
about something that's confusing you about your diabetes, or a
bit of help making your new blood test meter work. You can get
someone on the "telling-bone" pretty much any time of the day or
night and any day of the week. See the feature on page 8 to find
out what goes on behind the scenes. Don't stew about it, make the
call. They're great people to talk to.
Sue Marshall
contEnts
neWs fooD neWs feature story
An update on the Artificial Super hot peri-peri sauce from a You don't have to be desperate
Pancreas. A study looks at how South African chef with a British to make a call, even if you have
diabetics deal with alcohol. twist. The Curry Guide checks a simple question, then pick up
Hypodiabetic makes a move. out 1,000 restaurants (and we've the phone. We talk to some of
The Duchess of Cornwall visits a signed copy to giveaway). Plus the people in charge of the UK's
Type 1 centre of excellence. feasts for a forager. best diabetes Carelines.
Published by Desang Ltd the aim of this newsletter is to bring news and information to people living with diabetes. Please check all matters
concerning how you handle your health with your healthcare team. We welcome any feedback on the magazine or ideas for future articles.
Editor: Sue Marshall sue.marshall@desang.net
For details of our editorial policy see the Small Print.